September 2005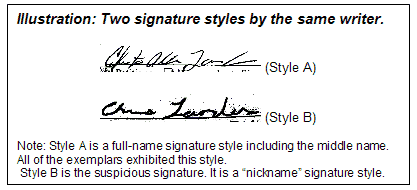 "That's not my signature", claims the deponent in a case involving a disputed signature. "I always use my middle initial," "I don't write that way," "It doesn't even look like my signature," "Somebody traced it."
As a questioned document examiner and handwriting investigator, I provide forgery detection and defense services. One problem that may surface is: the denial of a signature by an opponent whom you suspect really wrote the signature.
Asking the right questions during a deposition can expose a truth that the signature is not the deponent's NORMAL signature. Detecting alternative or aberrant signature styles, self-disguise signatures, or the possibility of ambidexterity is possible, and I will provide further assistance.
Use this checklist when deposing the denial of a suspicious signature, or any handwriting evidence. The answers to your fact-finding questions will provide valuable clues and essential evidence necessary for use as the basis of an expert opinion regarding authorship. Strive for detailed answers in order to attack all defenses.
QUESTIONS TO ASK BEFORE SHOWING THE SUSPICIOUS SIGNATURE TO THE DEPONENT
Specific to the date shown on the document:

During this time what health problems did you have? If you had any, please specify.
During this time did you have an injury to your finger/arm/shoulder? If any, please specify.
During this time did you have any problems with alcohol consumption? If any, please specify.
During this time did you consume any recreational or prescription drugs? If any, please specify.
During this time did you ever authorize anyone else to write your signature or sign documents for you? If any, please specify.

General concerns about handwritten signatures:

Have you been aware of anyone signing your name without your permission? If any, please specify.
Has your signature changed over the years? If so, please specify.
Are you aware that you may write your signature a little differently each time?
Are you aware that you may write differently when you are under stress? Or in a hurry?
Do you have any other signature styles? If so, please demonstrate.
Do you commonly sign with your middle name?
Do you use initials in your signature?
Do you ever write your signature with your other hand? Are you ambidextrous? Could you write your name with your other hand?
QUESTIONS TO ASK WHILE SHOWING THE SUSPICIOUS SIGNATURE TO THE DEPONENT
When did you sign your name on this document?
If you didn't, who did?
What other documents were related to the signing of this document?
If the detailed answers are truthful, they will assist the investigation. If they are false, contradictory evidence may eventually surface.
Handwriting is a learned skill. Variables, whether or not the writer is aware of them, can impact an individual's ability to write. The variables leave valuable clues for use as a basis of an expert opinion of authorship. An expert's studies and extensive research in the field of handwriting will expose the generally accepted facts that someone's handwriting and/or signatures can look very different, comparatively, yet reliably show common authorship.
A suspicious signature may, in fact, have been written by the deponent. A writer can make handwritten structures that differ from his/her normal handwriting or signature. Furnishing an expert with all the important factual information enables the expert to do a more thorough examination. An expert may then use the reasonable explanations that are generally known to affect someone's ability (or willingness) to write in their normal style as a basis of a reliable opinion of authorship.
The above list of suggested questions covers most relevant issues, and provides flexible and expansive framework into which specialized queries can be fitted. This is intended to serve as a guide for individuals seeking assistance by a proficient handwriting examiner in the investigation of the counterclaim of a suspicious signature.
BIBLIOGRAPHY:

1. Trial Diplomacy Journal. 12:80-9, Summer 1989. Defending The Deponent At The deposition. Suplee, Dennis R. and Diana S. Donaldson.

2. Oregon Trial Lawyers Association. Trial Lawyer. Summer 2001, pp 29-31. Technology Report: Signature Disputes And The Expert Opinion. Joseph, Jacqueline A.

3. Matley, Marcel B. Forgery: detection and defense. A Guidebook For The Legal Professional. Handwriting Services of California, San Francisco, 1988.
---
Jacqueline Joseph, B.A., CDE is a proficiency tested, board certified document examiner. As a practicing handwriting investigator since 1992, she is the owner of Accurate Document Examiners, a forensic science laboratory in Portland, Oregon. She is the author of numerous published papers and has given expert witness testimony in court, arbitrations and depositions. She welcomes your call. 1-800-698-8954 www.jjhandwriting.com.
See her Listing on Experts.com.
©Copyright 2005 - All Rights Reserved
DO NOT REPRODUCE WITHOUT WRITTEN PERMISSION BY AUTHOR.