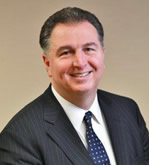 Michael J. Garibaldi, CPA, ABV, CFF, CGMA
, is President and CEO of Israeloff, Trattner & Co., CPAs, PC, one of the region's leading
Certified Public Accounting, Financial, and Management
firms and winner of the
New York Law Journal's
"Best Litigation Valuation Provider" for 2012. Mr. Garibaldi is responsible for client contact, development, and satisfaction in providing the Firm's range of services in
Accounting, Auditing, Tax, Computer, and Management
consulting areas. Accredited in
Business Valuation
and
Certified In Financial Forensics
, Michael Garibaldi is a Chartered Global Management Accountant who provides services to Law Firms and other Professional Practices such as Medical, Dental, Engineering and Architecture, and other small to mid sized closely held businesses including manufacturers, technology, wholesale/retail, construction, real estate, artists and galleries.
Mr. Garibaldi's areas of expertise include the valuation of closely held businesses, professional practices, and professional licenses in the context of marital dissolution, shareholder or partner dissolution/oppression actions, estate tax and estate planning, bankruptcy, equitable distribution, structuring buy/sell agreements, personal injury, wrongful death or termination, business loss, breach of contract, mergers and acquisition, sale, embezzlement and fraud. In addition, he has also performed damage due diligence reviews for potential real estate acquisitions, as well as computations of enhanced earnings capacity.
Mr. Garibaldi is a noted speaker, presenting seminars and lectures to bar associations and corporate institutions throughout the United States. He is also a recognized author in his field of expertise, having published numerous articles on the nuances of Business Valuation. An instructor for the AICPA Certificate of Educational Achievement Program in Business Valuation, Mr. Garibaldi teaches his specialty to other professionals.
View Expert Witness Profile
.
Goodwill can be a significant asset for a professional practice. It may include both "personal" goodwill that's attributable to individual owners and "business" goodwill that can be transferred to third parties. When accountants and other types of professionals divorce, the amount of goodwill to include in the marital estate can become contentious (and may vary depending on state law). If expert testimony on the issue is inadequate, a court might look elsewhere for help, as it did in a recent Texas divorce case, Hill v. Hill.
---