James King's
trial testimony as a legal expert has been praised by juries and judges for his unique ability to distill complex legal issues into understandable concepts. A graduate of Stanford Law School (Order of the Coif, Law Review), Mr. King has consistently qualified as an expert whenever his testimony has been offered. His 30+ years of experience and knowledge are reflected in his assignments: he has supervised and coordinated billion dollar litigation and has arbitrated or testified in over 250 legal fee and malpractice claims (with hundreds of millions of dollars at issue). Superior Court Judges have chosen Mr. King to work confidentially with them as a Special Master in a number of serious criminal cases, including homicide and judicial bribery. He has testified extensively in Federal and State Courts, and also has appeared as an expert before the U.S. Tax Court, the U.S. Patent and Trademark Office, and the High Court of Kenya.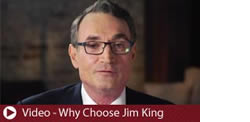 Mr. King's areas of expertise include
:
Legal Ethics
Attorney Fee Disputes
Standards of Practice in Litigation and Trials
Legal Malpractice and Professional Liability
Attorney Professional Responsibility
Mr. King also provides trial consulting and litigation strategy services to corporations, businesses, and law firms, in cases ranging from multi-million dollar
bio-tech cases
to
contract disputes, antitrust cases, securities, class actions, intellectual property cases, labor disputes
, and other areas of complex civil litigation.
View Expert Witness Profile
.
A Swiss Verein is an alliance between autonomous business entities that have separate organizational structures and independent financial operations. A verein is usually formed for the purpose of sharing a common brand name and unified marketing strategy. Law firms have recently begun to use this business structure and verein members currently engage thousands of attorneys.
---
Two recent decisions underscore the court's duty to fully scrutinize the reasonableness of a fee request. In Best Med. Int'l, Inc. v. Eckert & Ziegler Nuclitec GmbH, 11-2089, 2013 WL 221968 (4th Cir. Jan. 22, 2013), the district court awarded fees in the amount sought by applicant, finding the amount requested was reasonable.
---
In a legal malpractice matter, an Ohio state appellate court affirmed a trial court ruling granting summary judgment to defendant attorneys on the basis that...
---
Central District in California Relies on Jim King's expert witness testimony to make a 50% reduction in requested fee award.
---