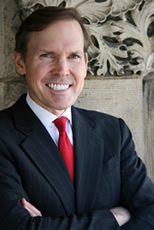 J. Gregory Sidak
is an
Expert Economist
in the fields of
Antitrust, Telecommunications Regulation, Commercial and Investment Arbitration
, and
Intellectual Property Law
His firm, Criterion Economics, offers market research and analysis, preparation of reports and white paper services to support legal disputes. Prof. Sidak has been a consultant on regulatory and antitrust matters to the Antitrust Division of the U.S. Department of Justice and the Canadian Competition Bureau and to multinational corporations in the telecommunications, electric power, natural gas, mail and parcel delivery, broadcasting, newspaper publishing, and computer software industries in the Americas, Europe, Australia, and Asia. The focus of his research has been
Regulation of Network Industries, Antitrust Policy, the Internet and Electronic Commerce, Intellectual Property, and Constitutional Law issues concerning Economic Regulation
.
Prof. Sidak has led seminars and research on damages and irreparable harm. He formerly served as Deputy General Counsel of the Federal Communications Commission and as Senior Counsel and Economist to the Council of Economic Advisers in the Executive Office of the President. Prof. Sidak is the founding editor of the
Journal of Competition Law & Economics
for the Oxford University Press. His writings have been cited by the Supreme Court of the United States, the U.S. Court of Appeals for the D.C. Circuit, and lower state supreme courts. He has also been cited by the Supreme Court of Canada, the European Commission, the Federal Trade Commission, and other regulatory agencies.
Consulting Services
: Damages and Valuation with expertise in disputes related to Trade Secret, Trademark, Trade Dress, Copyright Infringement & False Advertising, Licensing (Know-How) and Patents. Prof. Sidak's Consulting Services are usually sought out for Technology Disputes, Claims of Monopolization Antitrust & Unfair Competition, Administrative Proceedings, Price-Fixing & Dominance Allegations, Trade & Distribution Agreements, and to provide Regulatory Advice.
View Expert Witness Profile
.
The landmark Microsoft case raises challenging questions concerning antitrust remedies. In this Article, we propose a framework for assessing the costs and benefits of different remedies, particularly divestiture, in monopolization cases involving network industries.
---
What is the proper legal standard for product integration involving software? Because software is subject to low marginal costs, network effects, and rapid technological innovation, the Supreme Court's existing antitrust rules on tying arrangements, which evolved from industries not possessing such characteristics, are inappropriate.
---
A "price squeeze," or "margin squeeze," is a theory of antitrust liability under section 2 of the Sherman Act that concerns a vertically integrated monopolist that sells its upstream bottleneck input to firms that compete with the monopolist's production of a downstream product sold to end users.
---
The Telecommunications Act of 1996 sets forth extensive provisions to unbundle the local telecommunications network to encourage the development of a competitive market for local telephone.
---
The September 2009 announcement that the Federal Trade Commission and the Antitrust Division of the U.S. Department of Justice have initiated a review of the Horizontal Merger Guidelines provides a formal process for redefining the proper role of dynamic competition in antitrust law.
---
J. Gregory Sidak, Dan Maldoom, Ricahrd A.D. Marsden, Hal J. Singer
The Brussels Round Table, a forum of leading EU telecommunications operators and equipment manufacturers, commissioned these articles. They examine the deployment of broadband in European countries and make policy recommendations related to telecommunications regulation. Specific topics include pricing flexibility, competition, growth potential, likely future dynamics, competition, investment opportunities, eliminating excess regulation, facilitating longer-term points of view, and suggestions for transparent and competition-neutral subsidies.
J. Gregory Sidak
This book addresses deregulatory policies that threaten to reduce or destroy the value of private property in network industries without any accompanying payment of just compensation, policies that are termed "deregulatory takings." The authors further consider the problem of renegotiation of the regulatory contract, which changes the terms and conditions of operation of utility companies.
J. Gregory Sidak
Restrictions on foreign investment in U.S. telecommunications firms have harmed the interests of American consumers and investors, argues J. Gregory Sidak in this convincing study. Sidak shows why these restrictions, originally intended to protect America from the perils of wireless telegraphy by foreign agents, should be repealed...