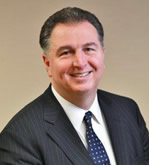 Michael J. Garibaldi, CPA, ABV, CFF, CGMA
, is President and CEO of Israeloff, Trattner & Co., CPAs, PC, one of the region's leading
Certified Public Accounting, Financial, and Management
firms. Winner of the
New York Law Journal's
"Best Litigation Valuation Provider" for 2012, Israeloff, Trattner & Co., CPAs, PC specializes in serving the legal profession and specializes in technical resources to support all phases of the litigation process.
The officer-in-charge of Law Firm Services, Forensic Accounting, Litigation and Valuation, Michael Garibaldi is one of the industry's leading law firm services experts. Mr. Garibaldi has a strong background providing efficient and affordable solutions to the many complex issues facing the legal profession today. A Valuation and Litigation Support expert, Mr. Garibaldi specializes in assisting attorneys and their clients with the financial aspects of a case throughout the litigation process, from contemplation of action through expert witness testimony. He brings an in-depth understanding of the business and technical aspects of
Valuation, Finance and Accounting
that is required in complex litigation and arbitration cases. Mr. Garibaldi works closely with law firms, retail chains, and large multi-million dollar real estate groups where he is responsible for providing accounting, tax planning management consulting services, and financial reporting.
Michael J. Garibaldi qualifies as an expert in valuation matters in New York Supreme, Nassau Supreme, Suffolk Supreme, Kings Supreme and Westchester Supreme Courts, and has been called upon by the courts to serve as a neutral Expert. As an instructor of the AICPA Certificate of Educational Achievement Program in Business Valuation, Mr. Garibaldi teaches his specialty to other professionals.
Areas of Expertise Include
:
Valuation - Closely Held Businesses, Professional Practices, Professional Licenses in the context of Marital Dissolution, Shareholder or Partner Dissolution / Oppression Actions
Estate Tax and Estate Planning
Bankruptcy
Equitable Distribution
Structuring Buy / Sell Agreements
Personal Injury
Wrongful Death or Termination
Business Loss
Breach of Contract
Mergers and Acquisitions
Sales
Embezzlement and Fraud
Damage Due Diligence Reviews for Potential Real Estate Acquisitions
Computations of Enhanced Earnings Capacity
View Consulting Profile
.
Goodwill can be a significant asset for a professional practice. It may include both "personal" goodwill that's attributable to individual owners and "business" goodwill that can be transferred to third parties. When accountants and other types of professionals divorce, the amount of goodwill to include in the marital estate can become contentious (and may vary depending on state law). If expert testimony on the issue is inadequate, a court might look elsewhere for help, as it did in a recent Texas divorce case, Hill v. Hill.
---