David Markowitz, Attorney's Fees Expert
Shareholder
3000 Pacwest Center 1211 SW Fifth Ave
Portland OR 97204-3730
USA
phone: 503-295-3085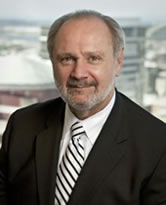 David Markowitz is a founding member of the firm, Markowitz Herbold PC. Considered by his peers to be among the best trial lawyers in the Northwest, his commanding presence and strategic thinking have made him a courtroom icon. Over the last three decades, Dave has guided Markowitz Herbold from its beginning as an ambitious two-attorney litigation shop to its present status as the premier business litigation boutique in the region.

Attorney's Fees Expert - Mr. Markowitz is an attorney fee expert and is frequently retained to testify at trial and attorney fee hearings. He has been retained to testify as an expert witness in more than 100 cases involving Legal Fee Award Disputes.

Impartial Third Party - For more than 20 years, Mr. Markowitz has served as a mediator and arbitrator resolving complex commercial disputes. He also acted as a pro tem judge in Multnomah County, Oregon Circuit Court for nine years.

Honors - David Markowitz has achieved the highest levels of recognition a trial lawyer can receive, and has been acknowledged by the world's premier legal publications for his career achievements. In a statewide survey identifying the top five percent of attorneys, he is the number one ranked litigator in Oregon according to Oregon Super Lawyers magazine. In 2011, he received the "Leadership in Law" honor from the Daily Journal of Commerce. Oregon Business magazine, in their 2007 Power Book, recognized Dave for "Delivering Results," naming him one of 50 Great Leaders in Oregon.

Lectures / Speaking Engagements - In addition to his active trial schedule, Mr. Markowitz shares his craft with lawyers of all levels. Mr. Markowitz is a frequent lecturer on litigation-related topics for the Oregon State Bar, the Federal Bar Association and the Multnomah Bar Association. He regularly presents a nationally-recognized training seminar on depositions. Trial Guides™ has produced a DVD of this popular deposition course, and it has become one of the company's best-selling products. As a follow-up, Trial Guides™ recently produced his "Mastering the Art of Persuading the Trial Judge" course on DVD and CD.
11/11/2014
· Legal Issues
Federal courts increasingly are cracking down on deposition misconduct through the imposition of sanctions under Rule 30(d)(2), which authorizes a wide array of sanctions against any person who impedes, delays, or frustrates the fair examination of a deponent. Fed. R. Civ. P. 30(d)(2). Sanctions are being imposed with greater frequency upon clients and their lawyers. As discussed below, sanctions may be imposed whether the disruption to the deposition was deliberate, or merely the product of a misunderstanding of the rules governing deposition conduct. For instance, courts have increasingly sanctioned lawyers under Rule 30(d)(2) for making speaking objections or improperly instructing witnesses not to answer questions. In addition, two courts have recently held that sanctions may be imposed for a lawyer's failure to intervene when a deponent client engages in deposition misconduct, on the theory that the defending lawyer's silence ratified and encouraged the bad conduct.
---