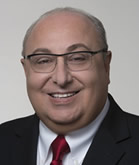 Martin Giniger, DMD, MsD, PhD, FICD
, is a
Doctor of Dental Medicine
with prestigious specialty certificates in
Oral Medicine and
Oral Pathology. He also earned his PhD in Chemistry from the University of Connecticut School of Dental Medicine. Dr. Giniger has over 30 years of experience practicing general dentistry and 20 yers of experience formulating products for personal care companies.
Dr. Giniger is considered to be the world's leading authority in the formulation of over-the-counter dental products including
Teeth Whitening Gels, Tooth Foams, Toothpastes, Mouth Rinses, and Confections
. He has worked full time for many oral care and dental products companies. Of note, he has worked full time for Colgate-Palmolive Company, the world's largest consumer oral care company. He has also worked, or consulted for Go Smile, Procter & Gamble, Church & Dwight, BriteSmile, Discus Dental, and many others. For 20 years, Dr. Giniger has helped to develop many new oral care and dental products for commercial sale and they have sold more than $10 billion dollars in aggregate for the companies mentioned.
Litigation Support
- Dr. Giniger has an impressive track record as an expert witness at the national level. He offers highly experienced expert witness services for litigation case evaluation and dental expert testimony. His years of working for the world's largest oral care companies and universities, as well as his expertise in formulating oral care products gives him unique qualifications that typically can trump any expert brought by opposing counsel. Dr. Giniger has never been on the losing side of any matter he has been involved
Areas of Expertise
:
Dental Standards of Care
NAD Claims Validation
Teeth Whitening and Oral Health Products
Dental Records Analysis

Evaluation for Dental or Medical Necessity
Appropriateness of Care
Preparation of Expert Witness Reports
Deposition and Courtroom Testimony
Recent Case
- Dr. Giniger has served as the lead expert witness for the U.S. Federal Trade Commission in the matter of the United States of America vs. the North Carolina State Board of Dentistry. This is a matter where organized dentistry sought to exclude non-dentist teeth bleaching options from the citizens of North Carolina. Dr. Giniger's expert witness report and week-Long testimony was the key to the United States prevailing in this important CONSUMER RIGHTS matter and just recently, the case was successfully defended in the United States Court Of Appeals for The Fourth Circuit. Dr. Giniger is now actively involved in similar matters involving the both the Alabama and Connecticut State Dental Boards and consumer rights.
View Dr. Giniger's Consulting Profile
.