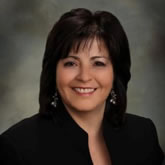 Analee McClellan
is an
Accredited Senior Appraiser (ASA)
with the American Society of Appraisers (ASA). She is currently the Personal Property Education Chair for the ASA's International Education Committee and a Member-at-Large of the ASA's Personal Property Committee. She is a Course Developer and an Instructor of Valuation Theory Courses for the ASA, offered in conjunction with university partners: University California Irvine, University of Chicago, Rhode Island School of Design (RISD), SUNY Purchase, New York.
Ms. McClellan is an independent, unbiased, and objective appraiser specializing in American and Continental European furniture, silver, ceramics, glass, and decorations dating from the 18th century to contemporary items, as well as general residential contents. Valuations are also performed for popular culture, Rock and Roll, music, celebrity memorabilia and collectibles. Ms.McClellan has a large network of qualified experts in other fields and can provide personalized service and project management for larger collections and additional specialized items. She provides consultations and professionally written and substantiated reports that conform to the Uniform Standards of Professional Appraisal Practice (USPAP) and the ethical code of the American Society of Appraisers. Her experience and background satisfies the IRS requirements of a qualified appraiser writing qualified appraisals for tax related assignments.
Litigation Support
: Ms. McClellan offers objective opinions of value that comply with the USPAP and the ASA's Code of Ethics. Consultant and expert in standard of care and typical practice for appraisers including USPAP compliance and IRS requirements, her services are available to counsel representing both Plaintiff and Defense.
Professional Services
:
Insurance: Coverage, Damage and Claims of Loss
Estate Matters: Estate Tax, Equitable Distribution, Probate
Financial Planning for Trusts and Estates: Establishing Cost Basis, Estate Management
Large Projects and Collections
Asset Valuation for Bank Loans
Dissolution of Marriage
Charitable Contributions and Gift Tax assignments that meet IRS requirements
Inventory and Condition Reports
Litigation and Expert Witness Assignments