Michael P. Gervais
is an experienced
Private Investigator
with 30 years of experience in Law Enforcement. He has a strong educational background which includes an A.S. in Criminal Justice and numerous certificates in law enforcement science and criminal justice. His background also includes four years in the US Marine Corps as a Military Policeman, Scout, and White House Honor Guard. His company, Silent Warrior, is located in Southern California and provides state and nationwide services.
Mr. Gervais has extensive knowledge of criminal prosecution with both county and federal Grand Juries. Available to both Plaintiff and Defense, his Litigation Services include surveillance, interviews, statements, trial preparation, and subpoena / process services by registered Process Servers. Mr. Gervais's practical experience, continuing education, new resources, and technology allow for accurate results and undisputable evidence.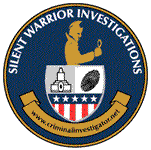 Areas of Expertise
:
Surveillance
Counter Surveillance Detection (Bug Sweeping)
Criminal Investigations
Civil Investigations
Asset Investigations
Organized Crime
Crime Scene Processing (Dusting for Prints)
Interrogation & Interviewing
Cheating Spouse Investigations
Computer Forensics Investigations
Polygraph Testing
Process Server
Executive and Corporate Personal Threat Assessments
PSE & Voice Stress Analysis for Lie Detection
View Consulting Profile
.
The PSE instrument detects, measures and graphically displays the degree of presence or absence of inaudible body tremors that are superimposed on the human voice (at all ages) and on all warm blooded animals. These tremors disappear according to the amount of stress that is present at the moment of utterance. The interview and test are recorded by the computer or cell phone.
---
Do you suspect that your husband or wife is cheating on you? If you think that your spouse is cheating, you may be looking for confirmation.
---
Michael Gervais
Guide to knowing if your spouse is cheating, signs and helpful suggestions to help avoid divorce.
2/20/2014
"CaliforniaLieDetectors.com provides professional lie detection and truth verification services throughout the state of California."
12/7/2013
"Orange Award Program Honors the Achievement of Silent Warrior Investigations"