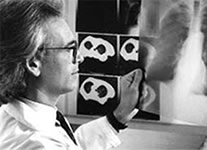 Daniel Powers, MD
, is Board Certified by the American Board of Radiology. Dr. Powers is licensed to practice medicine actively in 49 states plus the District of Columbia. He has built an extensive practice providing diagnostic imaging services and second opinions nationwide.
As a specialist in
Diagnostic Radiology
, Dr. Powers has taken additional training and testing in the interpretation of imaging studies of individuals exposed to occupational dusts and fibers and has been certified by the Federal Government as a "B-Reader" (Note that an "A-Reader" is a lesser degree of certification than a "B-Reader").
Dr. Powers was certified in 1984 and has recertified every four years since, in 1988, 1992, 1996, 2000, 2004, 2008, and 2012. He has extensive experience including rendering diagnoses in tens of thousands of chest x-rays, supine and prone spiral CT, and supine and prone HRCT scans. His CT / HRCT experience dates back to the beginning of when CT was first used routinely for occupational dust and fiber exposure in the 1980s.
Litigation Support
- Dr. Powers has expertise in the diagnosis of image findings in
Occupational Lung Disease
. His services have been requested to determine whether a respiratory problem caused by occupational dust and fiber exposure, such as asbestosis, silicosis, or coal workers' pneumoconiosis / black lung disease has markers for such, seen on imaging studies. Dr. Powers has testified in deposition and at trial regarding individuals and grouped clients.
Consulting Services
- Dr. Powers also offers imaging services to individuals, occupational clinics, corporations, unions, government agencies, insurance agencies, and hospitals to determine if there are markers of occupational dust or fiber exposure on imaging studies.