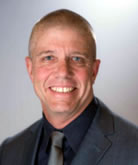 Jerald L. Cook, MD, MS, CIME
, is Board certified in
Occupational Medicine
and
Public Health and Preventive Medicine
.
With additional experience in Environmental Medicine and Toxicology, Dr. Cook has broad background experience, serving such industries as nuclear power, firefighters, healthcare workers, police officers, veterinarians, public service, transportation, military and veterans, warehousing and retail, environmental engineering, business services, and federal government.
Dr. Cook is currently the Medical Director at Lowe's Health Center where he provides collaborative physician support and onsite medical record reviews for a nurse practitioner clinic. He also serves as a US Navy Group Surgeon for Marine Air Control Group 38 where he provides direct acute care, primary care, wellness screening and health counseling to active duty Marines and Sailors.
Previously, Dr. Cook held the title of Occupational Health Department Head at the Twentynine Palms Naval Hospital where he was the sole provider offering occupational health services to 660 hospital staff and over 5,000 civilians and service members. He provided OSHA compliant medical surveillance examinations, FMCSA certification examinations, and managed federal workers' compensation injuries and illnesses.
Litigation Support
- Dr. Cook provides expert witness services for cases involving Occupational Medicine, Preventive Medicine / Occupational Environmental Medicine, Preventive Medicine, and Public Health. A registered nurse in California, he has reviewed over 10,000 medical records. Dr. Cook's services include medical record review, causation analysis, written reports, depositions, and trial testimony as needed.
Areas of Expertise
:
Workers' Compensation
Neuromuscular / Musculoskeletal Injuries
Psychiatry
Environmental / Work Stress
Service Animals
Exercise Science
Ionizing Radiation
Environmental Exposures
Long Term Disability

Peer Review
DOT / FMCSA
Travel Medicine
Mold
Organic Solvents
Metals
Heat Injuries
Impairment Ratings
Fitness for Duty Determinations
View Dr. Cook's Consulting Profile
.
Fibromyalgia is considered a functional disorder with unknown etiology and unclear pathophysiology. It's not well understood because there is little objective information to support the physical and psychological impairment that affected individuals report. This often becomes a challenge for individuals that feel disabled by the disorder and try to prove that the disorder prevents productive and meaningful work, so they qualify for disability benefits. Fibromyalgia is characterized by complaints of widespread musculoskeletal pain, fatigue and poor sleep, cognitive and psychiatric symptoms, headaches including migraines, and a variety of other symptoms. With or without psychosomatic symptoms, depression and anxiety are common in fibromyalgia (Ghiggia, et al. 2017) and should always be assessed when evaluating the presence of and effects of fibromyalgia. Individuals with fibromyalgia experience a heightened response to stimuli.
---