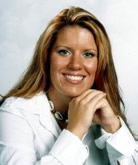 Jennifer E. Owen
has worked as a
Forensic Recorded Evidence Media Analyst
since 1995. She was a Chief Forensic Examiner at Owl Investigations, Inc. and specialized in
Audio and Video Analysis and Voice Identification
. In 2001, she obtained her Master's degree in Criminal Justice. In 2011, she started her own company, Owen Forensic Services, LLC.
Ms. Owen has analyzed hundreds of Audio, Video, and Voice Identification cases, including forensic transcription and meta - data recovery of digital files. She has provided forensic consulting, examination, and expert testimony in 35 different states. Ms. Owen provides litigation support services to attorneys representing both Plaintiff and Defense.
With a combined 50 years of experience, Ms. Owen and her father and mentor, Thomas J. Owen, have personally consulted on several high profile cases such as Trayvon Martin, Mel Gibson, Osama bin Laden, Woody Allen and Mia Farrow, Lady Diana, Bruce Springsteen, Brandy, LL Cool J, Britney Spears, Elvis Presley, and Mariah Carey to name a few.
Jennifer Owen is currently a member of The American College of Forensic Examiners and is on the board of The American Board of Recorded Evidence.
Services Offered
:
Audio - Forensic Analysis of all audio recordings. Including but not limited to: 911 Calls, Voicemails, undercover recordings, witness statements, interviews, and any enhancement of any audio recording
Authenticity Analysis of Audio Recordings - To confirm or deny possibility of tampering, or establish if the recording has been altered in any way
Video - Forensic Analysis of all video recordings and digital images. Including but not limited to: Surveillance video enhancement, Cell phone video recordings, image enhancement for purposes of identification
Video Authenticity of Video Recordings - To either eliminate the possibility of tampering or establish if the video has been altered
Voice Identification - To either eliminate or establish if your suspect's voice is the one in question on the recording
View Jennifer Owen's Consulting Profile
.
The forensic science of voice identification has come a long way from when it was first introduced in the American courts back in the mid 1960's.
---
Audio tapes, Video Tapes, Voice Identification, Enhancement and Authenticity Issues related to the admissibility of recorded media must pass certain legal criteria before it can be presented as evidence in a court of law.
---