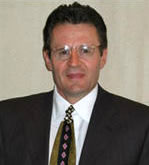 Terry L. Stroud, CFE
, possesses an MBA in finance and banking, and has over 30 years of experience as a
Banker and a Regulator
. A Certified Fraud Examiner, his regulatory background includes senior positions at several US regulatory agencies including the Office of the Comptroller of Currency (OCC), the Federal Home Loan Bank of Dallas, and the Office of Thrift Supervision (OTS).
Over the course of his career, Mr. Stroud has served as a conservator and special deputy receiver for troubled financial institutions including commercial banks, thrifts, savings banks, mortgage operations, and insurance companies. He has over 16 years of international experience as a senior resident advisor responsible for the restructuring of the commercial banking sector in a number of emerging markets.
On these various international assignments, Mr. Stroud has worked with senior government officials at the ministerial level and elected legislators, judicial and court-appointed officers, as well as other government officials, in the drafting, adoption, and implementation of a wide variety of laws and regulations for commercial banks, mortgage companies, and non-banking financial institutions, including credit unions. His work includes the development of risk management systems, including both on-site policies and procedures and an off-site surveillance system that is now used in at least a dozen countries. He has designed and implemented business plans and budgets for numerous state-owned businesses with the intent to obtain private equity.
During his U.S.-based work, Mr. Stroud has significant experience in dealing with troubled financial institutions, including the restructuring of billions of dollars of troubled assets for federally insured institutions operating under the control of federal regulators. Specifics include:
Serving as a senior conservator which included complete managerial responsibility for managing a group of severely troubled institutions with assets in excess of $30 billion
Serving as a special deputy receiver for the Texas Department of Insurance in the liquidation of multiple insurance companies
Litigation Support
- Mr. Stroud serves as an expert witness on
Corporate Governance
issues. He has provided both written and verbal testimony to various banking committees in both the House of Representatives and Senate. He has extensive experience involving legal and enforcement issues, including civil money penalties, removal and prohibitions, and court-ordered C&Ds.
Areas of Expertise
:
Problem Banks
Banking Regulations
Lender Liability
Documentation and Fraud involving Mortgage Loans
Loan Underwriting Documents for Distressed Assets including Credit and Collateral Exceptions
Prudent Lending Practices for both the Government and the Private Sector
View Terry Stroud's Consulting Profile
.
As everyone knows, managing an organization is not an easy undertaking. Successful companies employ a continuous process that addresses and acknowledges a constant flow of information. The primary focus of both the board and the executive management is to identify problems before they seriously impair the overall condition of the company.
---