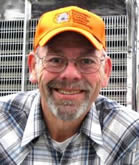 V. Paul Herbert, CPSA
, is a
Motor Carrier Safety Expert
with over 33 years of experience in trucking, commercial vehicle safety, and law enforcement.
Litigation Support
- Mr. Herbert is routinely called upon to testify in litigated
Truck, Bus, Forklift, and other Commercial Vehicle Cases
. He works for both plaintiffs and defendants and has testified in approximately 75 trials. Mr. Herbert provides expert witness testimony concerning custom, practice, and standard of care in California, Nevada, Oregon, and Washington.
Areas of Specialization
:
Commercial Vehicle (Truck & Bus) Accident Analysis
Commercial Vehicle Driver Training & Evaluation Standards
Air Brake Systems Operation & Maintenance Standards
Commercial Vehicle Coupling Device (Fifth Wheel & Pintle Hitch) Standards
Hazardous Materials Transportation Safety Regulations & Standards
Loading & Load Securement Requirements & Standards
Commercial Vehicle Driver Selection, Orientation & Training Standards
State & Federal Motor Carrier Safety Regulations (49 CFR & 13 CCR)
Commercial Vehicle Driver Hours of Service Restrictions & Driver Fatigue
Tachograph Chart and On-Board Computer Report Analysis
Commercial Vehicle Equipment & Maintenance Standards
Forklift Operator Training, Evaluation & Certification Standards
Truck Terminal & Loading Dock Safety Procedures and Design Standards
Heavy Equipment Loading, Hauling & Unloading Standards
Commercial Vehicle Conspicuity & Visibility Standards
Commercial Vehicle Inspection & Operation Standards
Background Experience
- Mr. Herbert began his career driving dump trucks, water trucks, and logging trucks. Throughout the following years he continued to haul logs during logging season and the remainder of the year he would haul finished lumber, wood chips, heavy equipment and machinery, sheet and structural steel, fuels and lubricating oils, pipe, etc.
In 1981 he became a State Trooper for the Nevada Highway Patrol and was stationed in Reno, Nevada. While employed by the NHP, because of his background as a truck driver, he was given specialized training and assignments pertaining to commercial vehicle safety, compliance, and accident investigation.
In 1990 Mr. Herbert created the Western Motor Carrier Safety Institute to provide commercial vehicle safety and compliance consulting services to several small trucking companies.
View V. Paul Herbert's Consulting Profile
.