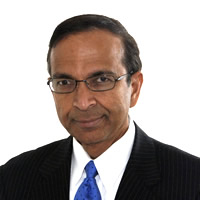 Over the years, there have been several product liability litigations regarding pedestrians being injured and the front structure designs of the vehicles being alleged as the significant factor. This topic was the subject of intense research many years ago and there may be US legislation in the near future. I have been involved with this topic both as a researcher as well as a product development engineer at an automobile manufacturer.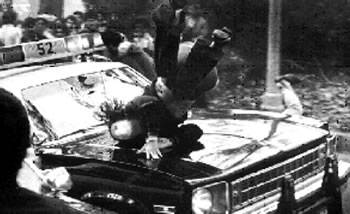 This note is intended to present some facts on the topic of pedestrian-versus-vehicle impacts. What role does the front structure of an automobile have in pedestrian and cyclist injuries? What are the laws? What is the current state of knowledge and what should be expected in the near future?
The Law
Present:
There is no US law (or Federal Motor Vehicle Safety Standard) governing automobile design for improving pedestrian protection. In the early 80s, an Advanced Notice of Proposed Rulemaking (ANPRM) was issued by the National Highway Traffic Safety Administration (NHTSA) but was cancelled. Other countries (Japan, European countries, etc) have such laws in place.
Future:
It is likely that later this year the NHTSA will issue a notice of proposed rulemaking requiring that structural components in the front parts of automobiles be designed to meet certain performance criteria when tested as specified (similar to the rules in other countries as described in www.unece.org/trans/main/ wp29/wp29wgs/wp29gen/wp29registry/gtr9.html). Briefly, these tests represent (a) headforms of an adult and a child striking designated parts of the vehicle's upper front; and (b) adult legforms impacting lower front surfaces. The effect of these requirements may be that the vehicle manufacturers have to (a) control the structural stiffness of the components in the impact zones (hoods, fenders, headlights, etc); and/or (b) provide adequate 'crush space' underneath the struck surfaces. This necessary crush space may not be designed in to some vehicles and the manufacturers may instead meet the law by 'active systems' to 'pop up' the hood when impact with a pedestrian is detected or with 'hood airbags'.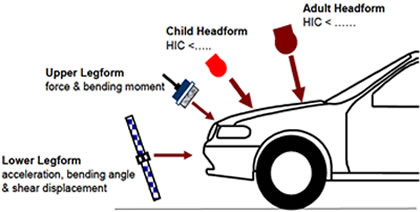 Statistics on pedestrian fatalities and incapacitating injuries
Distribution with Age:
The annual number of fatalities (known as 'K' in database) and incapacitating injuries ('A') among pedestrians and cyclists has decreased in the USA over the past years.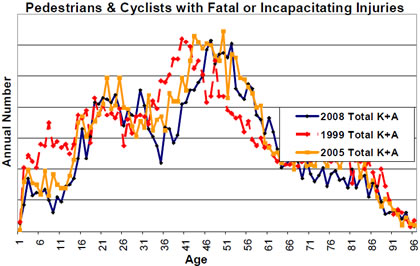 This decrease has not been uniform across the entire population of road users. The data from the Fatal Accident Reporting System for the years 1999, 2005 and 2008 is shown here by age and also by age groups.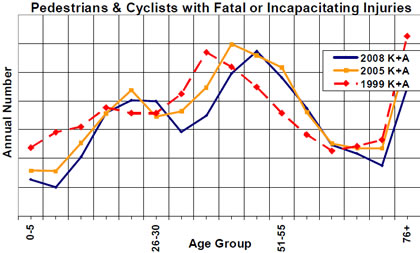 Total Number
The total number of pedestrian and cyclists crashes has also decreased in the US during this period (estimated distribution from the NASS GES 2008 shown here). But, the data shows that children and young adults are more likely to be involved as a pedestrian or cyclist in crashes with automobiles.
Probability of Fatality or Incapacitating Injury
The probability of fatality or incapacitating injury per crash rises with age (except for very young children). This indicates that an older pedestrian or cyclist is relatively more likely to suffer fatal or incapacitating injury if impacted by an automobile.
Research - effects of vehicle design on injuries
---
Dr. Mukul Verma, is a well-known expert in Automobile Safety and Crashworthiness, Vehicle Structures, Product Design, and Statistical Analyses of Traffic Trends and Regulations . He has worked in many engineering and management positions at a major automobile manufacturer including assignments in R&D, vehicle design, analysis and testing and engineering program management.

©Copyright - All Rights Reserved
DO NOT REPRODUCE WITHOUT WRITTEN PERMISSION BY AUTHOR.