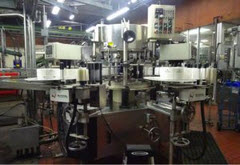 We recently conducted a Cost Segregation Study for an industrial property in California's Central Valley. Of the $8.2 million purchase price, the real estate appraisal allocated over $6.4 million of the purchase price to the building with an IRS depreciable life of 39 years and the rest to land (not depreciable).
The results of the cost segregation study reallocated over $3.2 million of the amount originally allocated to building to 7-year life for equipment ($1.86 M - 29%) and 15-year life for land improvements ($1.37 M - 21%). As a result the taxpayer was able to reallocate 50% of the $6.2 million from a 39-year life to 7- and 15-year lives.
Much of the 7-year life equipment was of a highly specialized nature - above standard fire suppression system, specialized ventilation system, and 480 volt power feed wiring to special purpose production equipment. These components may have been easily missed by a general purpose cost seg specialist accustomed to looking at apartment and office buildings. Because our industrial cost segregation specialist is a professional equipment appraiser, trained to notice and investigate the interconnecting components required to get machinery and equipment systems fully functioning, these items were integrated into the study and legitimately claimed for the taxpayer's benefit.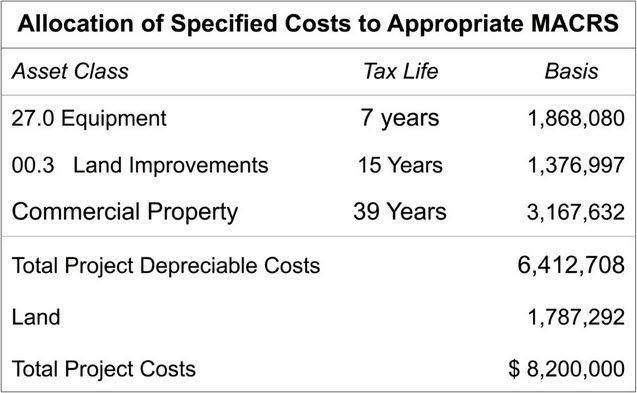 Just as important as capturing this specialized equipment during the required inspection of the facility is the fact that our report properly documented the findings, explaining not only the reasoning and rational for the change in asset lives and but also how the changes related to the Internal Revenue Code, prior revenue and tax court rulings. It's one thing to do the analysis properly; it's an entirely separate issue to adequately and thoroughly explain the analysis in a way that a reviewer clearly understands and accepts the results of the cost segregation support.
When you're considering a cost segregation study for your industrial or agricultural property, you'll find it useful to work with an someone who understands your industry - and who can write a narrative report that presents the study results in a clear and comprehensible manner that an IRS agent can appreciate. For more information on how our cost segregation studies can help you, use this easy contact form to get in touch with us. We look forward to hearing from you!
---
Jack Young, ASA, CPA is an Accredited Senior Appraiser (ASA) of the American Society of Appraisers specializing in Machinery and Equipment Appraisals and a Certified Public Accountant (CPA). Mr. Young has also been awarded a Master Personal Property Appraiser (MPPA) designation from the National Auctioneers Association. He has thousands of hours experience as an Equipment Appraiser and is an active member of the Northern California Chapter of the ASA, where he serves as Chapter President.

©Copyright - All Rights Reserved
DO NOT REPRODUCE WITHOUT WRITTEN PERMISSION BY AUTHOR.