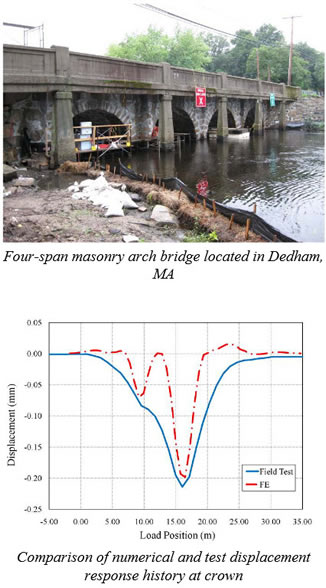 PROJECT
Ames Street Arch Bridge
Dedham, Massachusetts
CLIENT
CLS Cintec America, Inc.
Washington, DC
PROJECT DESCRIPTION
Atkinson-Noland & Associates worked with Bridge Diagnostic, Inc. to evaluate the performance of the historic Ames Street Bridge in Dedham, Massachusetts during the strengthening phase of the structure. Live load tests were conducted on the bridge before and after strengthening to evaluate the efficiency of the selected rehabilitation method. Displacement and strain were monitored at several critical locations along the arch barrels using Linear Variable Differential Transformer (LVDT) displacement sensors and surface - mount strain transducers. A finite element study was performed to understand the complex behavior of the multi-span masonry arch bridge. A long-term monitoring system was installed to evaluate the bridge behavior over time.
SERVICES PROVIDED BY ATKINSON-NOLAND
Engineering support during live load tests
Finite element study of the structure
Installation of a long-term monitoring system
---
Atkinson-Noland & Associates, Inc. (ANA) has provided structural engineering services for federal, state, and private organizations since its founding in 1975. The unique organization of the firm strives to balance a commitment to innovative research and development goals with direct application to problems in the field. The experience and education of their professional and support staff provides a strong capability for handling difficult and challenging material and structural engineering problems. Through ongoing research and practice, the firm has established itself as one of the foremost international authorities on both historic and modern masonry structural systems.

©Copyright - All Rights Reserved
DO NOT REPRODUCE WITHOUT WRITTEN PERMISSION BY AUTHOR.