Exterior Insulation and Finish Systems (EIFS) include a group of exterior cladding systems that was introduced from Europe to the United States approximately 30 years ago. EIFS was first used in Europe after World War II to reclad many bombed and damaged buildings. Most of those structures used cement or stone walls as the base to which EIFS was applied. When the use of EIFS spread to the United States, it was subsequently applied to walls that used framing made of wood as opposed to stone or cement walls. EIFS is sometimes referred to as synthetic stucco and sometimes incorrectly as stucco, however a buyer or owner should beware - EIFS systems are different from true stucco systems and have the potential of causing a myriad of problems to a structure.
What is an Exterior Insulation and Finish System?
EIFS is a system of insulation board attached to a structural wall, covered with a thin, flexible mesh, a thin cementitious base coat, followed by a thin textured, colored finish coat. The entire thickness of the EIFS system is typically, approximately 1/8"to 1/4", plus the thickness of the insulation board, which will vary, based upon desired R-value (insulation rating). The insulation board allows for the additional of R-value at the building exterior, and the versatility of the product allows for a variety of architectural details and colors.
EIFS systems are specified to be installed over approved exterior sheathings that consist of gypsum products, plywood panels, oriented strand board (OSB) panels, and masonry products. Attachment of the EIFS is via either adhesive (gluing the insulation board to the substrate) or by screwing the insulation board to the substrate.
EIFS systems have the same appearance and texture as stucco. The finial product is actually a stucco type material, which, when properly applied, is intended to work as a weather barrier. A weather barrier means that the system is designed not to allow weather (i.e. water) past the exterior skin. Theoretically, this ideal appears simple, however, in practice a combination of improper detailing, field conditions that are not always ideal, and the aging of materials makes the system inherently problematic.
Common Problems
Once moisture gets behind the system, there is no where for the water to go, and, because the insulation board is attached to the exterior of the sheathing, the system holds water against the sheathing, slowing normal evaporation and promoting decay of the structure and most often, creating conditions that are conducive to mold and fungi growth.
In laboratory conditions, with correct detailing and attention to detail, the system would likely perform well - that is until the sealants begin to age and water can penetrate the skin of the building (the weather barrier). However in real word conditions, the system offers no repetition of weather protection and no room for error in the installation of the materials. All of the other common exterior claddings such as wood siding, vinyl siding, brick cavity walls and hard coat stucco, when properly installed, include a secondary moisture barrier, and flashings to return water that penetrates behind the exterior cladding back out to the face of the building. EIFS systems do not include this necessary drainage plane1. Therefore with in field mistakes, or even with perfect application and normal failure of the sealants, water will infiltrate and the problems will commence. The National Association of Home Builders (NAHB) has published on its web site; ""NAHB believes that homes with barrier EIFS can develop moisture intrusion problems even when properly constructed according to industry standards. Unlike other types of cladding, the design of barrier EIFS does not allow the draining of water that gets behind the system, either through building components (openings in the building envelope for doors, windows, etc.) or when sealants break down or crack. Depending upon the climate and the overall make-up of the wall assembly, the wall may not readily dry out. Sustained elevated levels of moisture without adequate drying will cause rot or decay to sheathing and framing."
There are a number of mistakes an untrained or careless applicator can make to result in deficient installation. These mistakes can be in fastening the insulation board to the building structure, not installing the reinforcement mesh properly, not installing the proper thickness of material, or most often, by improperly flashing building fenestration and interfaces with adjoining building materials. Again, even the smallest of oversights can lead to a water source that may not be noticed until it has caused significant damages within the walls of the building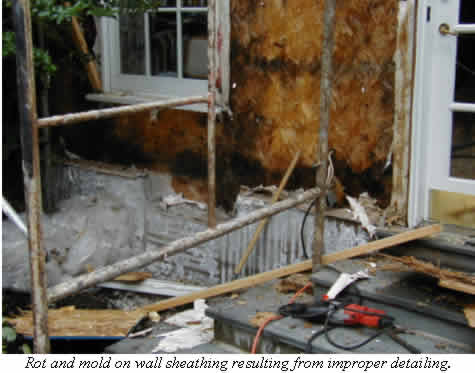 Rot and mold on wall sheathing resulting from improper detailing.
Some buildings that have been observed to be in the worst conditions once tested have been found to appear to have no problems from the exterior (to the untrained eye) and have no reported occurrences of water infiltration at the interior of the home. Once the materials are removed however, the extent of the water infiltration, structural decay and mold infestation are realized.
In fact, according to the June 1, 1998 issue of Engineering News Record, the manufacturer, Senergy Inc., a subsidiary of Harris Specialty Chemicals Inc. of Jacksonville, Florida, has agreed to contribute up to $20 million to repair homes clad with synthetic stucco that were damaged when moisture infiltrated behind the material. The Boca Bulletin, September 1998 issue reports that a North Carolina superior court tentatively approved the partial settlement which allows anyone who, as of May 15, 1998, owned a one or two-family residential dwelling or townhouse anywhere in the United States clad with the product manufactured by Senergy or Thoro Products, Inc. to participate in the settlement. Most recently a proposed Settlement Agreement between Plaintiffs and Dryvit Systems, Inc. is pending in the Circuit Court for Jefferson County, Tennessee, at Dandridge in a class action lawsuit known as Bobby R. Posey et al. v. Dryvit Systems, Inc.,. The Settlement covers all persons or entities who, as of June 5, 2002, own a one- or two-family residential dwelling or townhouse in any State other than North Carolina clad, in whole or in part, with an Exterior Insulation and Finish System ("EIFS") manufactured by Dryvit Systems, Inc. ("Dryvit") and installed after January 1, 1989. Individually, courts throughout the country have been providing decisions for homeowners and Associations for defective EIFS installation in the $1M ++ range. Another report as published on WRAL OnLine indicates that the North Carolina's Homebuilders Association says that 95% of randomly tested synthetic stucco homes have at least some damage.
To make matters worse, today's tightly constructed buildings (i.e. especially those constructed with EIFS) slow the drying process for water that does make it's way into the wall -the slowed drying allows for the growth and propagation of mold spores.
Molds can be found almost anywhere and can grow on virtually any organic substance with the presence of moisture and oxygen. However, mold growth can be controlled by controlling moisture. Moisture control should be with respect to elimination of water infiltration from the exterior and condensation building up on the interior. Potential health concerns are an important reason to prevent mold growth and to remediate/clean up any existing indoor mold growth.
The press has successfully relayed the health concerns of Stachybotrys chartarum (SC) contamination. However many fungi (e.g., species of Aspergillus, Penicillium, Fusarium, Trichoderma, and Memnoniella) in addition to SC can produce potent mycotoxins (poisons as a defense mechanism) that have been identified as toxic agents. Inhalation of fungal spores, fragments of spores or mycotoxins produced by a wide variety of fungi can cause or increase allergic reactions, toxic effects or infections.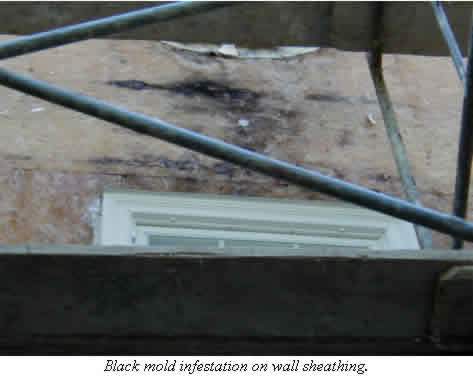 Black mold infestation on wall sheathing.
Summary
EIFS systems have proven to be problematic. Building codes require that exterior claddings keep water from entering the building envelope - moisture barrier EIFS systems are not meeting this simple criteria. The interface between EIFS components and the other building components require detailing that relies on 100% performance, and a maintenance routine that is not nearly possible to avoid water infiltration issues that will go unnoticed before decay of the buildings structural system and mold growth can occur.
A practical repair method is difficult if not possible on most structures. The issues of installing proper joints, removing enough material to replace water damaged structure and then attempting to tie all of the old and new materials together in a way to offer a tight cladding that will appear uniform after all repairs are made is eclipsed by the fact that even if this could be achieved the end product will still be a system that relies 100% on the performance of the interaction between the EIFS and all other materials and allows no room for failure resulting from sealant failure, window leaks, door leaks roof leaks, or water infiltration through any other component of the cladding.
Footnotes:
1. Note that EIFS manufacturers have recently introduced a second generation of products that include drainage planes behind the insulation board.