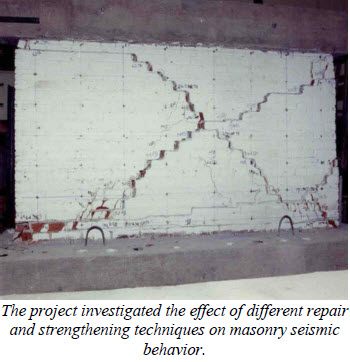 PROJECT
Repair and Strengthening of Unreinforced Masonry
Laboratory Research
CLIENT
National Science Foundation
PROJECT DESCRIPTION
Atkinson-Noland & Associates was a principal investigator on a three-year project evaluating different techniques for repair and retrofit of unreinforced masonry structures. Old masonry construction was simulated in the laboratory, and the test specimens were strengthened by installation of internal reinforcement or repaired by grout injection. The effect of the techniques on structural behavior was investigated by load testing with particular emphasis on masonry seismic response. Analytical techniques developed during the project allow evaluation of potential repair or strengthening schemes for unreinforced masonry. This project was a joint effort with the Politecnico di Milano, Milan, Italy, ZMRK of Llubjlana, Slovenia, the University of Colorado, and Atkinson-Noland & Associates.
SERVICES PROVIDED BY ATKINSON-NOLAND
Review of techniques used for masonry repair and strengthening.
Developed suitable cement-based grouts for injection into fine cracks (thickness of 0.007 inch) and larger voids. Thirty-five formulations were evaluated using standardized tests for flow properties, injectability, mix stability, and bond strength.
Tested a series of masonry piers in compression, repaired resultant damage by grout injection, and re-tested to investigate effectiveness of the injection technique on restoring masonry compressive capacity.
Used nondestructive techniques, including mechanical pulse velocity and acoustic tomography, to quantify the effectiveness of grout injection.
Repaired a series of unreinforced masonry shear walls by injection grouting and installation of internal reinforcement following simulated seismic damage. The repaired and strengthened walls were re-tested to quantify the effects of the techniques on seismic resistance.
---
Atkinson-Noland & Associates, Inc. (ANA) has provided structural engineering services for federal, state, and private organizations since its founding in 1975. The unique organization of the firm strives to balance a commitment to innovative research and development goals with direct application to problems in the field. The experience and education of their professional and support staff provides a strong capability for handling difficult and challenging material and structural engineering problems. Through ongoing research and practice, the firm has established itself as one of the foremost international authorities on both historic and modern masonry structural systems.

©Copyright - All Rights Reserved
DO NOT REPRODUCE WITHOUT WRITTEN PERMISSION BY AUTHOR.