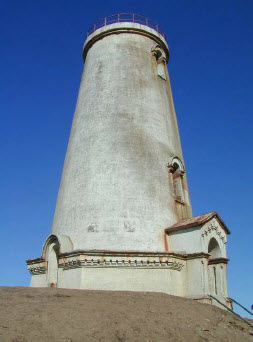 PROJECT
Piedras Blancas Lighthouse
San Simeon, California
CLIENT
Otak, Inc.
Portland, Oregon
Right: Construction began on the Piedras Blancas Light Station in 1874. The site now includes two of the original historic structures-a lighthouse building completed in 1875 and a fog signal building completed in 1906. The lighthouse building was originally 115 feet tall, including a first-order Fresnel lens manufactured in Paris, France.
PROJECT DESCRIPTION
Atkinson-Noland and Associates (ANA) participated in a structural assessment of the historic Piedras Blancas Light Station located north of San Simeon, California. This forensic engineering investigation includes identifying existing structural conditions and material properties as part of an overall structural assessment for the purpose of historic preservation.
SERVICES PROVIDED BY ATKINSON-NOLAND
Atkinson-Noland & Associates performed several types of nondestructive testing (NDT) at the light station including flatjack testing and ground penetrating radar (GPR - a.k.a. impulse radar) testing of masonry.
Overall condition survey of Tower and Fog Signal Building including corrosion and seismic damage evaluation.
Assistance in analysis and retrofit design for seismic upgrade for the Fog Signal Building.

---
Atkinson-Noland & Associates, Inc. (ANA) has provided structural engineering services for federal, state, and private organizations since its founding in 1975. The unique organization of the firm strives to balance a commitment to innovative research and development goals with direct application to problems in the field. The experience and education of their professional and support staff provides a strong capability for handling difficult and challenging material and structural engineering problems. Through ongoing research and practice, the firm has established itself as one of the foremost international authorities on both historic and modern masonry structural systems.

©Copyright - All Rights Reserved
DO NOT REPRODUCE WITHOUT WRITTEN PERMISSION BY AUTHOR.