Services Performed:
Evaluation of tire inflation product performance when used in accordance with the manufacturer's instructions.
Summary:
EFI Global (EFI) was hired by a legal team representing a tire product manufacturer to replicate the use of a tire inflation product in an off-road tire. Litigation was prompted when the tire inflation product was used in an off-road tire that exploded and resulted in a fatality. Our team was asked to evaluate the product when used when used in accordance with the manufacturer's instructions as written on the products label; when used in concert with pure oxygen, and when used in concert with compressed air.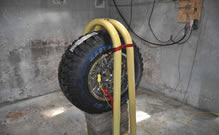 After developing the test protocol and safety procedures, EFI's team of chemists and investigators conducted a field test at our testing facility. Elaborate safety measures and measuring equipment were used to ensure the safety of personnel and accuracy of the results. This included performing the testing in a concrete bunker, covering the bunker roof with wood framing secured with more than 3,500 lbs of sandbags, installing electronic sensors to record temperature and pressure of the tire, and remotely injecting compressed air, or oxygen into the tire.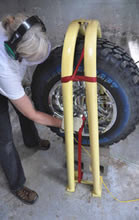 Following the set-up procedures, three test iterations were conducted: use of the product as specified on the label, use of the product with compressed air added, and use of the product with oxygen gas added. Each test was video recorded and the resulting test data was digitally recorded.
The field testing confirmed that when the product is used as specified on the label, even in the presence of an ignition source, no explosion occurred. However, when oxygen gas was combined with the inflation product and an ignition source introduced, an extremely violent explosion occurred. The damage included shredding of the tire, mangling the tire cage and pulling the anchor bolts from concrete floor, destroying the wood framed and sandbagged roof, and cracking the concrete bunker walls. As a result of our efforts, EFI's field testing and analysis supported the basis for the client's litigation and resulted in a successful settlement without trial.
View a short video of the tire explosion
.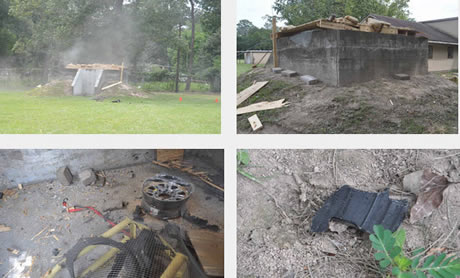 ---
EFI Global is a full-service Engineering, Fire Investigation, Environmental, Health and Safety, and specialty consulting firm. Over the last four decades, they have grown from a boutique firm to become a recognized leader in engineering failure analysis, origin and cause investigations, and environmental consulting. This expertise coupled with the extensive coverage of our 27 national offices, more than 400 professionals, and global work abroad capability allows EFI Global to deliver timely responses that consistently meets their clients' expectations.

©Copyright - All Rights Reserved
DO NOT REPRODUCE WITHOUT WRITTEN PERMISSION BY AUTHOR.