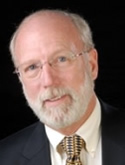 John W. Valentine
is the principal of
Valentine Law LLC
-- a specialty firm focused on Asset Servicing, Custody Banking and ERISA Fiduciary issues for Institutional Investors and service providers, including Fund Sponsors, Investment Managers, Custody Banks, –
and other law firms needing temporary expertise in this area
.
Asset Servicing encompasses laws, regulations and industry practices covering the mechanics of investing, including: trade settlement; global and domestic custody; use of securities depositories and registries; physical asset custody; income; corporate actions; proxies; tax reclaims; pricing and valuation; fund accounting, derivative processing and all other aspects of custody and asset administration and operations.
He also handles ERISA fiduciary issues and prohibited transactions; Mutual Fund custody and accounting; private fund structure; SEC regulations involving manager and mutual fund custody and global custody; practices and standards for corporate actions, class actions, tax reclaims, collateral arrangements, FX etc. – virtually all aspects of custody and management operations.
Client Needs Served
:
Fund Sponsors – Negotiations and problems/losses involving Banks and Investment Managers; Risk Management; Fiduciary Audits; negotiation of trust and custody agreements
Investment Managers – All Fund Sponsor needs above; as well as ERISA fiduciary expertise in fund investments, including derivatives and non-traditional investment vehicles; mid and back-office operations; fund structure; domestic and global custody arrangements; etc.
Custody Banks – Advice regarding all aspects of domestic and global trust and custody and asset servicing.
Law Firms - Expertise as needed to assist clients or unique client needs as noted above, without referring clients to other full-service firms; consultation on matters involving asset servicing and trust/custody issues; and litigation.

Background Experience:

John W. Valentine has practiced law for over 40 years, with more than 30 years in Banking and Financial Services, ERISA, and benefits work. His experience includes all sides of financial services work, from custody banks, to investment managers, to plan sponsors.

Valentine Law was established in 2009. Prior to that Mr. Valentine: headed the legal office of Mellon Bank (later BNY-Mellon) in Everett, MA for 11 years; was in-house counsel to Chase Manhattan Bank's Trust and Custody operations for almost 10 years; and for 7 years was Labor and Benefits counsel for Lever Brothers Company.

Mr. Valentine was an active participant in the ERISA Attorney's Group and helped found the Association of Global Custodians. As such, he knows and has helped influence industry practices as well as regulations and regulatory policies affecting Institutional Investors. His extensive in-house knowledge of Custody Banking and Fiduciary Services is unique.

View John Valentine's Expert Witness Profile.