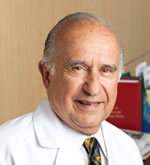 James P. Argires, MD, FACS, FAANS
, is a
Neurosurgical and Spine Specialist
with over 47 years of experience treating brain tumors, aneurysms, metastatic disease, and other brain disorders through accurate diagnosis, precision medical procedures, and effective rehabilitation.
Dr. Argires is a Graduate of the University of Alabama Medical School. He is a Member of the American Board of Neurological Surgeons, Fellow of the American College of Surgeons, and Past President of the PA State Neurosurgery Society and Mid- Atlantic Neurosurgery Society. Dr. Argires is currently on staff at Lancaster General Hospital, Lancaster Regional Medical Center, and WellSpan Ephrata Community Hospital.
Consulting Services
- Dr. Argires consults with patients experiencing problems with their vision, speech, memory or balance, or are troubled with headaches, seizures, loss of consciousness or paralysis. He is able to diagnose problematic conditions through comprehensive neurological exams that include advanced diagnostic imaging such as Magnetic Resonance Imaging (MRI), Computer Tomography (CT), and Arteriogram. Routinely performed neurosurgeries includes Craniotomies, Craniectomies, Deep Brain Stimulation, Carotid Endarterectomies, Ventriculoperitoneal Shunts, and Carpal Tunnel.
Conditions Treated
:
Brain Aneurysm
Carotid Disease
Metastatic Disease
Lesions of the Brain
Pituitary Tumors

Craniosynostosis
Arteriovenous Malformation
Hydrocephalus
Trigeminal Neuralgia
Intracerebral Hemorrhage
View Dr. Argires' Expert Witness Profile
.