Cogency Toxiological, Environmental And Medical Solutions
is unique
Indoor Environmental Investigations
firm because it is based on a public health model with an individual and clinical medicine focus. For more than 15 years, they have been providing high-value, medically-based counsel and solutions to clients on a vast array of national and community, occupational, and environmental health issues.
Cogency helps organizations, before, during, and after an environmental crisis by:
Aligning culture and population health with public health objectives and the organization's mission
Anticipate potential high risk events and establishing prevention procedures to reduce surprises
Help organizations comply with applicable laws and regulations while addressing the health based issues
Services Include
:
Environmental Investigations
Toxicological Investigations
Medical Investigations
Preventive Solutions

Advisory & Consulting Services
Regulatory Solutions
Litigation Support Services
Samplings, Surveys, Monitoring
Risk Communication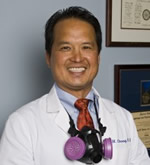 President,
Hung Cheung, MD, MPH, FACOEM,
President of Cogency Environmental, has more than 20 years of experience and is a nationally-recognized expert in
Respiratory Environmental Medicine
, Legionella Outbreaks, Environmental health and Toxicologic investigations, Risk Communication and Medical Advisory Services.
A former Maryland State Medical Director, he teaches at the Johns Hopkins Bloomberg School of Public Health and is faculty to the Occupational and Environmental medicine program at the University Of Pennsylvania Perelman School Of Medicine. Dr. Cheung also teaches AIHA (American Industrial Hygienists Association) webinars on the topic of Legionella nationally. Board Certified in both Internal Medicine and Preventive Medicine, he holds a Master's in Public Health from Johns Hopkins and has a medical degree from the University of Maryland.
Dr. Cheung has extensive experience working on issues of
Indoor Environmental Quality
on matters related to molds, microbial, chemical, and other contaminant exposures in commercial buildings, manufacturing plants, schools, and various public and residential facilities. His philosophy is a preventive medicine approach, i.e., to design, educate and prevent occurrence or reoccurrence of exposures, injuries and illnesses by determining the root cause(s) of environmental diseases, injuries or accidents and developing a plan of action for resolving the problem.
Dr. Cheung on New York Legionnaire's Disease ABC2 News
View Dr. Cheung's Expert Witness Profile
.