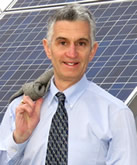 Curt M. Freedman, PE, CEM, CEA, LEED AP
, has over 30 years of experience as a
Mechanical Engineer
. With a Masters in Engineering Management, he provides professional engineering consultation services for the residential, commercial, and industrial sector.
Mr. Freedman evaluates building mechanical and structural infrastructure. His experience includes the design, engineering, and construction of HVAC systems, boilers and chillers, plumbing systems, and utility conservation products for the residential, commercial, and industrial sector. He is registered to practice in Connecticut, Maine, Massachusetts, New Hampshire, New Jersey, New York, Pennsylvania, Rhode Island, Vermont, and Maryland.
Since 2006, Mr. Freedman has been an adjunct professor at Western New England College in Springfield, MA where he teaches materials science laboratory, energy management, and alternative energy sources. In 2010, he became the first professor to successfully include the Certified Energy Manager (CEM) Exam as part of an engineering classroom as sponsored by the Association of Energy Engineers (AEE). Mr. Freedman is an advocate for utility conservation and more equitable electric natural gas, water, and sewer tariffs.
Engineering Design Expertise
:
Artesian Well Design
Code Compliance Evaluations
Controls Systems
Electric / Natural Gas Conversions
Commercial Property Reserve Funding
Flat Plate Solar Panels
Energy Conservation
Forensic Engineering Evaluations
Furnaces
Gray Water Heat Recovery
HVAC Design
Hydronic Boilers

Mechanical System Troubleshooting
Natatorium HVAC Design / Energy Conservation
Photo-voltaic Solar Panels
Property Assessments
Real Estate Closing Inspections
Refrigeration System Efficiency Measures
Renewable Energy systems
Restaurant Energy Conservation
Rooftop HVAC Equipment
Steam Boilers
Utility Rate Audits
Water Conservation
View Curt Freedman's Expert Witness Profile.