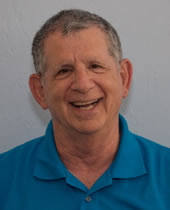 H. Michael Mogil
is an American Meteorological Society
Certified Consulting Meteorologist (CCM)
with B.S. and M.S. degrees in meteorology from Florida State University (Tallahassee, FL). Mr. Mogil has also earned the AMS' Certified Broadcast Meteorologist (CBM) rating. He remains active in many professional organizations, including the AMS and the National Weather Association (NWA).
Mr. Mogil has over 40 years of experience, nearly 30 of them with the National Oceanic and Atmospheric Administration (NOAA). In addition to working for the National Weather Service (NWS) as a forecaster, researcher, and severe storm program manager, he also provided satellite training to many governmental agencies and hundreds of TV meteorologists. He has delivered numerous talks to the public, and scientific conference and other audiences concerning weather and weather safety.
Mr. Mogil has authored/co-authored several books about weather, weather experiments, and a comprehensive teacher's guide for using the newspaper to study weather in the classroom. He has also developed several weather posters and cloud charts. Mr. Mogil has written scores of articles for national science journals, and numerous other magazines and newspapers. Most recently, he spearheaded the development of a series on the WEATHER & CLIMATE OF THE STATES for
Weatherwise Magazine
.
During 1999 he served as a consultant to the Discovery Channel's new WEATHER Field Guide. Earlier, he served as the weather consultant to Grolier's New Book of Knowledge Encyclopedias and Mississippi State University's "Teachers In Geosciences" Education Program.
Mr. Mogil is also an avid
Photographer and Videographer
with published weather photographs in numerous weather text and trade books, educational journals, various magazines, and the
Washington Post
. One of his pictures even graces a U.S. postage stamp. Mr. Mogil was recognized as Member of the Year by the NWA in 1988 for his "...outstanding efforts in weather education," and, in 2013, was awarded the NWA's Public Education Award.
View Michael Mogil's Expert Witness Profile
.
We all know that statistics themselves don't lie, but the people who use statistics may intentionally or unintentionally do so. A Tweet late yesterday by Eric Holthaus (@EricHolthaus) was the most recent example to catch my eye. With the Atlantic Ocean region bustling with intense hurricanes at this time, it would be easy for some people to draw an incorrect conclusion from Holthaus' data (Fig. 1) - i.e., that intense hurricane activity is escalating. But that's not necessarily what is happening.
---
During the past two weeks, I spent many hours helping Dave Elliott and his team at WGUF-FM (98.9) radio here in Collier County, FL. Stephen Johnson (control room) and Scott Fish (101.9 - Gator Country radio, simulcast with WGUF) rounded out the team.
---
H. Michael Mogil, et al
Extreme Weather, a new book in the visually stunning, groundbreaking INSIDERS series, answers all these questions and more. Packed with high quality images and diagrams on everything from types of storms to how to observe weather to places known for their specfic extreme weather. Full-energy spreads approach the topics through unique and unexpected angles, taking the reader inside the action. Engaging and fun to read, this series will appeal to know-it-all kids and reluctant readers alike.
H. Michael Mogil
The ultimate guide to the planet-altering effects of extreme weather, featuring full-color photos and fascinating explanations of how weather systems work. H. Michael Mogil presents the results of his 35 years of meteorological research in a comprehensive overview of extreme weather systems, noting historical trends as well as what to expect in the future. He also explains how many events occur because the earth's environment self-regulates, while others may be influenced by such factors as rising temperatures in cities, deforestation, and population increases.
H. Michael Mogil
Tornadoes are one of the most fascinating and powerful weather phenomena. These twisting columns of air can be incredibly destructive and often lethal when they touch the ground. Weather forecasters have long studied tornadoes in an attempt to better understand their origins and how to predict them. H. Michael Mogil expertly explains the mechanics of tornadoes, how and where they form, and what happens when they strike. He describes how advances in technology, including radar and weather satellites, have led to improved warning systems.
H. Michael Mogil
Other books and publications by author on Amazon.com