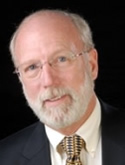 John W. Valentine
is an attorney with more than 40 years of experience – over 30 of which are in Custody Banking, ERISA Fiduciary, Benefits and Asset Servicing work. He has served as an expert witness in global custody and asset servicing matters for private litigants as well as the SEC, and is available for either plaintiffs or defendants.
Prior to starting Valentine Law in 2009, Mr. Valentine: headed the legal office of Mellon Bank (later BNY-Mellon) in Everett, MA for 11 years; was in-house counsel to Chase Manhattan Bank's Trust and Custody operations for almost 10 years; and for 7 years was Labor and Benefits counsel for Lever Brothers Company.
Mr. Valentine was an active participant in the ERISA Attorney's Group and helped found the Association of Global Custodians. As such, he knows and has helped influence industry practices as well as regulations and regulatory policies affecting Institutional Investors.
His extensive in-house experience is unique. His insider knowledge of procedures and operations is invaluable in analyzing investment losses involving bank custody or service provider negligence. He can help draft strong Complaints that will survive attack, as well as effective Answers and Counter-Claims. Because he knows internal structures and operations, he can also help conduct more effective discovery –in demanding and analyzing key materials -- as well as identifying issues which might otherwise be missed -- to develop a winning strategy.
His reports and opinions are authoritative and persuasive.
Areas of Expertise
:
Directed Trustee and Custodial Agreements, Duties and Operations
Best Practices for Pension Funds, Mutual Funds, Endowments / Foundations, Corporate Assets, Hedge Funds
Trade Settlement Operations
Settlement, Custody and Documentation of Non-Traditional Investments, including Limited Partnerships, LLCs, GICs / GACs, Group Trusts, and Hedge Funds
Derivatives Processing, Reporting and Documentation for both bi-lateral and exchange-traded derivatives
Collateral and Account Control Agreements and Duties
Foreign Exchange, including ERISA Exemption Procedures
Valuation of Assets, including hard-to-value assets
Selection, Oversight, and Management of Sub-Custodians
Foreign Tax Reclaim Administration
Corporate Actions
Proxy Voting
Company Stock
Collective Investment Funds, including STIFs
Luxembourg and Irish Fund Administration
Bank Deposit Vehicles
Overdraft Facilities
Risk and Compliance Department Function / Risk Mitigation / Risk Controls
Mutual Fund Back-Office, Accounting and Administration
Rules 17f-5 and 7 for foreign custody of US Mutual Fund assets
The Custody Rule applicable to Investment Managers
ERISA plan asset issues
ERISA foreign asset custody rules
ERISA prohibited transactions
View John Valentine's Consulting Profile
.