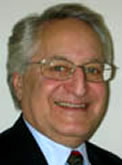 James B. Wener, BSME, MBA
is a
Business Systems Consultant
with over 45 years of experience in successfully managing small through very large projects and implementing a large number of computer systems for healthcare, manufacturing, and distribution organizations.
Mr. Wener is a certified HIPAA professional, having performed several HIPAA compliance assessments, staff training programs, writing policies and procedures and developing and implementing HIPAA Breach Programs. Health care clients include Rush/Prudential Health Plans in Chicago, HMO Illinois, Mayo Clinic in Minnesota, Harris Health Plans in Dallas, HealthFirst in New York and Mercy Health Plans in Wisconsin and Illinois, Mercy Hospital in Chicago and other health maintenance organizations (HMOs).
A Management Systems consultant since 1991, Mr. Wener has a significant record of accomplishment. His Information Technology (IT) projects include the implementation and management of a wide variety of application software systems. He has decades of experience in process automation for payers (health plans, third party administrators or TPAs), providers (hospital and physician groups), Management Service Organizations (MSOs), and clients in other industries. Mr. Wener specializes in:
Analyzing Operational Flow
Identifying Information Requirements
Preparing Vendor Requests for Proposal
Selecting, Developing, and Implementing Computerized Solutions
Litigation Support
- James B. Wener has been an expert witness for several plaintiffs and defendants regarding failed projects, failed system implementations, and HIPAA breaches. His extensive litigation support and expert witness engagements have focused on assisting attorneys in understanding the industrial and best practices related to the facts of their case, preparing the "message" that best represents the client's position, assisting in preparing pleadings, assisting in settlement negotiations, writing expert witness reports understandable to the non-professional, preparing for opposing side depositions, being deposed, and preparing for and appearing at trial.
Areas of Expertise
:
HIPAA Assessments
Failed System Implementation Projects
Intellectual Property Damages
Wrongful Employee Termination
Project Management
System Implementation

Systems Implementation Management
Disaster Recovery Planning
Breach of Patient Privacy
Software Company Bankruptcy
Failed Project Management
IT Advisor Independence
View James B. Wener's Consulting Profile
.
The role of the litigation attorney is to tell a story to the arbiter in such a way to effectively represents the client's position. Often the attorney requires a person with unique expertise to understand and present technical information in a manner that is understandable to the lay person. Attorneys often determine the need for an expert witness after discovery and after depositions have been taken for many of the witnesses. In many cases this is too late for an expert to most effective. My experience as an expert witness has led me to recommend considering the use of an expert at the following times
---