Maritime / Marine Insurance Expert
Available Nationally and Internationally
Richmond VA 23233
USA
phone: 804-929-2224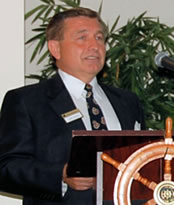 James D. Jones, MBA, ARM, is a Maritime and Marine Insurance Expert with over 48 years of domestic and international experience in Insurance Underwriting, Risk Management, Marine Brokerage, and Marine Claims Resolution and Negotiated Settlements.

Background Experience - Mr. Jones graduated from the United States Merchant Marine Academy, held third mate license for any tonnage any ocean, as well as rank of Ensign in USNR. He has sailed merchant vessels to over 50 ports in over 20 countries, including break bulk vessels and tanker vessels. He has spent over four decades years serving as a senior marine insurance underwriter, risk manager, marine insurance broker, general insurance agency principal, consultant, sales manager, and as Executive Marine Claims Examiner for major firms. See full resume at www.MarineExpertWitness.com

Mr. Jones created and taught several insurance, underwriting, and claims courses at two major insurance firms. He has delivered dozen of speaking presentations at regional and national venues for the Society of Accredited Marine Surveyors, National Association of Marine Surveyors, both of the Ft. Lauderdale & Tampa Bay Mariners Clubs the American Conference Institute Annual Forum on Admiralty & Maritime Claims & Litigation, as well as creating numerous training videos and in-house workshops for major insurance firms. He is currently an active member of both NYC professional organizations - The Maritime Law Association of the United States and The Society of Maritime Arbitrators.

Litigation Support - James D. Jones provides expert witness, mediation, and arbitration services relating to both General and Maritime Exposures and available on both a national and international basis. His services are available to counsel representing both plaintiff and defendant. He has recently testified successfully in 5 out of 5 complex maritime cases.

Mr. Jones is experienced in Marine and Vessel Insurance issues as well as general Personal and Business Exposures related to claims such as: Slips and Falls, Bodily Injury, Amputations, Scaring, Disfigurements, Death, Maritime Disability, Marine Insurance Terminology, Drilling Rigs, Tugs and Barges, Blue and Brown Water Vessels, Research Vessels, River and Ocean Maritime Exposures, US Coast Guard Rules of the Road, Ferries, RORO and Passenger Vessels, Crew Service Boats, Yachts, Pleasure Craft, Sailboats, Marine Exhibitions, Regattas, Special Maritime Events, Naval Battle Re-creations, Fishing Tournaments, Sea Scouts Organization events, and Vessel refurbishment and overhaul exposures.
Commander, U.S. Coast Guard (Ret.)
P.O. Box 799
Bedford TX 76095-0799
USA
phone: 817-571-7731

David E. Cole
is a Retired USCG Commander with 20 years of service. Mr. Cole holds a Juris Doctorate degree from Loyola University of New Orleans, LA, and a Bachelor of Science degree in Maritime Transportation from the State University of New York Maritime College. Mr. Cole's maritime consulting business is practiced
Nationwide
. He provides various consulting services in all areas of Maritime & Admiralty, for both Plaintiff & Defense. Mr. Cole is qualified to testify in both Federal and State Courts. His 20 years service as a US Coast Guard Officer, retiring as a Commander, enables him to thoroughly analyze maritime matters.
Mr. Cole is a member of the American Bar Association, Louisiana Bar Association, New Orleans Bar Association, Association of Trial Lawyers of America, Louisiana Trial Lawyers Association, Maritime Law Association of the US, Southeastern Admiralty Law Institute, American Boat & Yacht Council.
Consulting Services Provided
:
Personal Injury & death
Collisions
Allisions
Groundings
Regulatory Analysis
Jones Act
Navigation
Seamanship
Permitting
Bridges
General Maritime Safety
Offshore Oil Field
Vessel Access
Determination of Navigable Waters
Vessel Operations & Manning
OSHA Regulation
Legal Services Offered
:
Litigation Support
Navigation Analysis
Vessel Inspections
Collision Analysis
Deposition Appearances
Research
Reports
Agency Liaison
Trial Appearances
Standards and Regulations
David Cole is Experienced in all Types of Vessels
:
Recreational Boats
Personal Watercraft
Barges & Fishing Vessels
Tug Boats
Charter Vessels
Tank Ships
Passenger & Cargo Vessels
Towing Vessels
Crew & Supply Boats
SERVICES PROVIDED NATIONWIDE