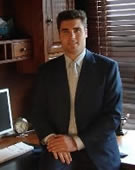 Steven J. Meyers
is an experienced
Aircraft Accident Investigator
who combines scientific analysis, material science, laboratory testing, piloting expertise, aircraft maintenance, and human factors to investigate air safety issues. He has a Masters Degree in Aeronautical Science, BS in Engineering Physics, AS in Manufacturing Engineering Technology, and an Extension Diploma in Applied General Metallurgy.
Aviation and Human Factors
: Piloted / instructed in 60 different types of aircraft ranging from turbines to gliders to sea planes. Multi-engine, instrument rated commercial pilot, active flight instructor, FAA licensed Airframe and Power Plant Mechanic (A&P) with FAA Inspection Authorization(IA).
Accident Investigator
: Extensive experience investigating product liability claims. Applies scientific methodologies to accurately reconstruct and explain the circumstances of an accident. Investigations ranging from the in-flight failure of composite airframe structures to the use of unapproved parts to reconstructing ground vehicle incidents. Illinois licensed Private Detective.
Material Scientist
: Brings a strong experience in applying modern materials science coupled with a focus on failure analysis and the use of standardized testing techniques. Evaluates the effects of corrosion, temperature, and mechanical stresses on the performance of materials. Analysis performed on fractured thru-bolts, crankshafts, fuel pumps, carburetors, and bearings.
Failure Analyst
: Provides practical and comprehensive testing that is independent and unbiased. Capable of performing a broad range of tests to determine the strength, physical, chemical, and wear properties of metals, coatings, ceramics, composites, and plastics. Access to ASTM qualified test machines, optical microscopes, SEM, FTIR, load cells, and accelerometers.
USAF Non-Commissioned Intelligence Officer
: Confident public speaking skills with experience in preparing briefings and making recommendations to high-level military commanders
Areas of Expertise
:
Aircraft Design and Operation
Aircraft Performance
Avionics & Autopilots
Piloting & Training
Reciprocating Engines
Major Repairs & Alterations
Human Factors
TAA Aircraft
FAA Regulations & Certification
Wreckage ReconstructionIn-Flight Break-Ups
Mid-Air Collisions
Flight Path Reconstruction
Crashworthiness
Loss of Control
System Failures
In-Flight Fires
Cockpit Automation
Mechanical Testing
Material Compatibility
Patent Infringement
Failure Analysis
Composite Materials
Mechanical Fasteners
Tribology & Wear Testing
Fretting, Galling & Corrosion
Lubricants, Greases, & Fuels
View Steven Meyers' Consulting Profile
.