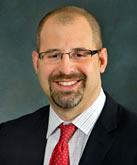 Dr. Adam J Carinci, M.D. is a nationally recognized and sought after clinician, speaker and expert witness with over a decade of pain medicine experience. He is double-board certified in both Anesthesiology and in Pain Medicine and maintains an active, full time medical practice. Dr. Carinci is Chief of the Pain Management Division and Director of the Pain Treatment Center at the University of Rochester Medical Center and an Associate Professor at the University of Rochester School of Medicine. Prior to his current position, Dr. Carinci was the Director of the Pain Medicine Center at Massachusetts General Hospital and an Instructor at Harvard Medical School. Dr. Carinci trained at Johns Hopkins University School of Medicine, Johns Hopkins Hospital, Massachusetts General Hospital and Harvard Medical School. He has been involved in over 50 cases as an expert witness for both plaintiff (35%) and defense (65%). He has qualified as an expert witness in federal court. He has authored over 30 expert reports, and has offered testimony under oath at both depositions and trials. Dr. Carinci is pleased to provide attorney references and redacted sample reports. He is an active member of the American Society of Anesthesiologists, The American Academy of Pain Medicine and the American Pain Society. He lectures nationally as an expert on opioids and pain. He is a consultant for several Federal Agencies including; CDC, HHS and USDVA.
Pain Management Credentials:
Board Certification in Anesthesiology (ABMS)
Board Certification in Pain Medicine (ABMS)
Expertise: CRPS, RSD, Opioids
Division Chief and Director at URMC
Prior Director of the MGH Center for Pain Medicine
Active clinical practice in pain management
Litigation Support
Extensive expert witness experience
Standard of care opinions, Case merit
Medical Necessity Standards, Medical Fraud and Abuse
Translate complex medical issues into easily understood language
Trial Experience
Pain is one of the most prevalent conditions for which patients seek medical attention. Additionally, the number of patients who utilize complementary and alternative medicine as a treatment of pain either in lieu of, or concurrent with, standard conventional treatments continues to grow. While research into the mechanisms, side effect profiles, and efficacies of these alternative therapies has increased in recent years, much more remains unknown and untested. Herein, we review the literature on complementary and alternative medicine for pain, with particular emphasis on evidence-based assessments pertinent to the most common alternative therapies, including acupuncture, herbal therapy, massage therapy, hypnosis, tai chi, and biofeedback.
---
Addiction to opioid analgesics is an important and yet underinvestigated clinical issue, which has substantial implications in opioid therapy for chronic pain management. Problematic opioid use, including compulsive opioid seeking and addiction, arises in some fraction of opioid-treated chronic pain patients. The connection between chronic pain and opioid addiction is a complex interplay between psychological, epidemiological, and neurobiological factors. Herein, we explore this critical relationship.
---
Complex Regional Pain Syndrome (CRPS) is the great imitator1,2. The current medical literature is clear that severe CRPS, particularly CRPS that has been present for several years, is a systemic disease which can manifest in literally any organ system throughout the body. In fact, there is not a single organ system that is known to be immune from the spread of CRPS. Not uncommonly, CRPS can spread from one limb to another and from one organ system to another through interactions between the somatic and sympathetic nervous systems.
---
Torture is widely practiced throughout the world. Recent studies indicate that 50% of all countries, including 79% of the G-20 countries, continue to practice systematic torture despite a universal ban. It is well known that torture has numerous physical, psychological, and pain-related sequelae that can inflict a devastating and enduring burden on its victims. Health care professionals, particularly those who specialize in the treatment of chronic pain, have an obligation to better understand the physical and psychological effects of torture. This review highlights the epidemiology, classification, pain sequelae, and clinical treatment guidelines of torture victims. In addition, the role of pharmacologic and psychologic interventions is explored in the context of rehabilitation.
---