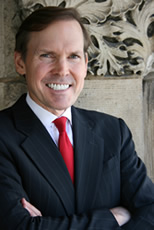 J. Gregory Sidak
is an
Expert Economist
in the fields of
Damages, Antitrust, Patent, Telecommunications Regulation, Commercial and Investment Arbitration
, and
Intellectual Property Law
. Prof. Sidak is Chairman of Criterion Economics, L.L.C. in Washington, D.C. The focus of his research has been regulation of network industries, antitrust policy, the Internet and electronic commerce, intellectual property, and constitutional law issues concerning economic regulation.
Prof. Sidak formerly served as Deputy General Counsel of the Federal Communications Commission and as Senior Counsel and Economist to the Council of Economic Advisers in the Executive Office of the President. His writings have been cited by the Supreme Court of the United States, the U.S. Court of Appeals for the D.C. Circuit, and lower state supreme courts. He has also been cited by the Supreme Court of Canada, the European Commission, the Federal Trade Commission, and other regulatory agencies.
In a typical engagement, Gregory Sidak assists senior management and outside counsel in devising and executing a litigation or regulatory strategy for addressing a consequential challenge or opportunity. Although he also serves as a court-appointed neutral expert, his typical clients are Fortune 500 companies or their overseas counterparts. Prof. Sidak's comparative advantage is applying economic analysis to novel legal questions that can materially affect the company's enterprise value. He excels at communicating to legal decision makers the relevance of that economic analysis to answering the pertinent legal questions.
Areas of Expertise
:
Damages and Valuation - Trade Secrets, Trademark, Trade Dress, Copyright Infringement, False Advertising, Licensing (Know-How), Patents
Technology Disputes
Claims of Monopolization Antitrust & Unfair Competition
Administrative Proceedings
Price-Fixing & Dominance Allegations
Trade & Distribution Agreements
Competition Regulation and Enforcement in the US and EU
View Consulting Profile
.
Regulators in many countries have asserted that setting asymmetric mobile termination rates (MTRs) between the incumbent mobile telephony operator and its smaller rivals is an efficacious means by which to help entrants attain efficient scale. We investigate empirically the efficacy of this policy experiment using data from a global sample of 34 countries from 1996 through 2014. We estimate a model that relates operators' long-run market shares to initial entry conditions and the degree of asymmetry among MTRs using an instrumental variables (IV) strategy. The estimates imply that a high degree of asymmetry among MTRs lowers an entrant's long-run market share by roughly 4 percentage points compared with a regime of symmetric MTRs, and the effect is roughly constant across market penetration levels. Furthermore, mobile operators tend to perform better when entering markets with higher levels of concentration and lower levels of market penetration. Our novel findings cast doubt on the efficacy of imposing asymmetric MTRs as a means to achieve greater equality of competitive outcomes. Our findings inform the larger body of theoretical literature on the pricing of interconnection and network access.
---
Under what conditions may the holder of standard-essential patents (SEPs) seek to enjoin an infringing implementer without breaching the SEP holder's contract with the standard-setting organization (SSO) to provide access to those SEPs on fair, reasonable, and nondiscriminatory (FRAND) terms? I show that the SEP holder's contractual obligations still permit it to seek an injunction. A FRAND commitment requires the SEP holder to offer a license for the SEPs on FRAND terms (or otherwise to grant implementers access to the SEPs). Extending an offer containing a price within the FRAND range discharges the SEP holder's contractual obligation.
---
In 2005, Ofcom, then telecommunications regulator in the United Kingdom, implemented functional separation of British Telecom plc (BT), separating its wholesale and retail services. BT established a division within the company, Openreach, to provide equal access to its local access network and backhaul products. The tenth anniversary of this regulatory and corporate experiment is an appropriate moment to ask whether functionally separating Openreach from BT benefited consumers. We find that Openreach's creation generated short-run consumer benefits in the form of lower prices but also led to negative long-run effects, which outweighed the short-term price reduction.
---
Google distributes proprietary applications for its open-source Android mobile operating system (OS) free of charge. Some of those applications (apps) are offered together as a suite of apps known as Google Mobile Services (GMS). Manufacturers of mobile devices can agree, pursuant to Google's Mobile Application Distribution Agreement (MADA), to install the suite of apps on their devices at a price of zero. Some theorize that Google's policy of offering some applications together as a suite of apps harms competitors or menaces consumer welfare.
---
Mark Lemley and Carl Shapiro propose that standard-setting organizations (SSOs) mandate that their members henceforth submit to binding, final-offer arbitration (commonly called "baseball arbitration") to set fair, reasonable, and nondiscriminatory (FRAND) royalties in licensing disputes concerning standard-essential patents (SEPs). SSOs should reject this proposal. It does not rest on sufficient facts or data, nor does it apply intellectually rigorous principles and methods of law and economics in a reliable manner. This is not to say that the voluntary use of arbitration to resolve FRAND licensing disputes is inherently problematic. However, the incremental efficiency that Lemley and Shapiro claim that their proposal would achieve over litigation or conventional commercial arbitration is illusory. For one, it is much harder to value a portfolio of SEPs over the span of five years than to value an individual baseball player for a single season.
---
What does it mean for a patent holder to commit to a standard-setting organization (SSO) to license its standard-essential patents (SEPs) on fair, reasonable, and nondiscriminatory (FRAND) terms? When is a royalty FRAND? Drawing from both legal theory and economic theory, I propose an interpretation of FRAND that distinguishes and reconciles the conflicting definitions of FRANDand provides courts a practical approach to identifying FRAND royalties
---
Complex civil litigation routinely includes expert economic testimony. However, determining which expert economist is more credible may confound a lay jury. It may even confound the judge when ruling on the admissibility of expert economic testimony during the Daubert hearing.1 One solution rarely employed is for the court to appoint its own neutral economic expert under Rule 706 of the Federal Rules of Evidence2 when a lawsuit contains a claim for damages that will require rigorous analysis of data. Based on my recent experience as Judge Richard Posner's court-appointed neutral economic expert on damages in patent infringement litigation, I explain in this article how the wider use of Rule 706 would assist the judge and jury and would facilitate the prompt settlement of intellectual property, antitrust, securities, contract, business tort, and other complex disputes.3 The benefits to courts and litigants would surely exceed the costs.
---
As part of the Modification of Final Judgment (MFJ) that implemented the divestiture of the Bell operating companies (BOCs) from AT&T on January 1, 1984, the BOCs were forbidden to carry telephone calls from one local access and transport area LATA) to another. Although the Telecommunications Act of 1996 superseded the MFJ, it retained the BOCs' interLATA prohibition and established, in section 271, a process – involving each state public utilities commission, the Federal Communications Commission (FCC), and the Department of Justice (DOJ), acting on a state-by-state basis – by which the BOCs could earn regulatory approval to enter the interLATA market within the regions in which they provide local exchange service. As of September 1, 2002, the BOCs had received section 271 authorizations to provide in-region interLATA service in fifteen states.
---
A recent phenomenon in competition policy is the acquisition of a private firm by an enterprise that is either wholly owned by government or in the midst of privatization. Such an acquisition poses the question of how public ownership may alter the incentives of a firm to engage in anticompetitive conduct. It also prompts one to examine the process by which such altered incentives revert, as the level of government ownership declines, to the same incentives that face purely private firms. Using Deutsche Telekom's acquisition of VoiceStream Wireless as a case study, this article presents the economic questions relevant to evaluating the competitive consequences of acquisitions by partially privatized firms. It predicts gains or losses to various constituencies of producer groups.
---
In this review of John Lott's book, Are Predatory Commitments Credible?: Who Should the Courts Believe?, we find that Lott is more successful in pointing out the likelihood of predatory pricing by public enterprises than in proving that predatory pricing by private enterprises does not occur. In Part I of this Review, we critique Lott's theoretical and empirical attempts to show that predatory pricing by private firms is implausible.
---
Mail delivery is one of the few economic activities that has avoided the wave of deregulation and privatization that has swept network industries over the last few decades. This Article examines several questions regarding the business activities of Canada Post Corporation in a competitive environment. What should be the appropriate mandate of Canada Post? If Canada Post is a natural monopoly, what form of regulation best serves Canadian consumers? If Canada Post's delivery of letter mail is not a natural monopoly, what basis exists for retaining Canada Post's current statutory monopoly? What potential exists for Canada Post to abuse its statutory monopoly-and other statutory privileges and immunities-to compete unfairly against efficient private suppliers of postal services?
---
Few phrases in public policy have become so overused so quickly as the information highway. Although it is unclear to many what that superhighway is or will be, this uncertainty has not prevented proposals to regulate the superhighway from being made. In this Article, we examine the economic principles that should govern competition and regulatory policies concerning the development and operation of the information superhighway.
---
Since 1975, when the debate over monopolistic predation began to boil in courts and universities, most discussion has focused on predatory pricing. And although the allegation of predatory innovation arose in some well-known litigation involving Kodak and IBM, lawyers and economists have produced little credible work explaining how this phenomenon can occur, let alone how it should be identified and remedied if deemed to threaten consumer welfare.
---
Antitrust law currently lacks a unified theory of liability and damages. But the Supreme Court's recent acceptance of consumer welfare as the goal of antitrust law underscores a growing judicial inclination to construe antitrust liability rules to encourage efficient production and efficient resource allocation. As the Court reconstructs the law of antitrust liability, it should also revise the law of antitrust damages by defining the rights created by those damage measures to accomplish specific economic goals.
---
A routine defensive tactic of targets of hostile tender offers is to seek a preliminary injunction under section 16 of the Clayton Act on the ground that the offeror's acquisition of the target's stock would effect a merger violating section 7 of the Act. The litigation costs that an antitrust injunction imposes on an offeror seems unlikely to exceed the offeror's risk-adjusted expected benefit from the takeover. In this Article, I discuss several reasons why the possibility of delay tendes to discourage a potential offeror from ever making a tender offer.
---
Through its antitrust enforcement system, society allocates resources to deter anticompetitive behavior. Antitrust enforcement is costly because prosecutors and judges mischaracterize some competitive or efficiency-enhancing behavior as horizontal collusion. In this early application of the Polinsky-Shavell argument about the tradeoff between the probability and magnitude of fines, this essay argues that, given prosecutorial and judicial error, society will not optimally allocate its antitrust enforcement resources by threatening price fixers with exorbitant economic penalties that have only a minimal probability of being enforced.
---
Current controversies over patent policy place standard-setting organizations (SSOs) on a collision course with antitrust law. Recent theoretical research conjectures that, in an SSO, patent owners can "hold up" patent users in the sense of demanding high royalties for a patented input after the SSO has adopted the patented technology as an industry standard and manufacturers within the SSO have incurred sunk costs to design end products that incorporate that standard.
---
We examine the consumer-welfare implications of Google's project to scan a large proportion of the world's books into digital form and to make these works accessible to consumers through Google Book Search (GBS). In response to a class action alleging copyright infringement, Google has agreed to a settlement with the plaintiffs, which include the Authors Guild and the Association of American Publishers.
---
We favor revision of the Horizontal Merger Guidelines.1 Our preliminary comments in this essay are based on a work in progress that we provisionally entitle, "Favoring Dynamic Competition over Static Competition."
---
Competition authorities in foreign jurisdictions have recently adopted or are considering guidelines on applying competition law to intellectual property rights (IPR). A common concern that certain exercises of IPR can restrict competition underlies IPR provisions that would enable competition authorities to compel holders of IPR to license their IP at regulated royalties.
---
The OECD's proposed regime of asymmetric ex ante regulation for Mexico's telecommunications marketplace would reduce competition, contrary to the OECD's aims. The OECD's proposals would harm Mexican consumers and force an increase in prices paid for telecommunications services. They would create a government-sanctioned price cartel among the telecommunications providers.
---
A recent phenomenon in competition policy is the acquisition of a private firm by an enterprise that is either wholly owned by government or in the midst of privatization.
---
agencies in the United States and the European Union began investigating Google's search practices in 2010. Google's critics have consisted mainly of its competitors, particularly Microsoft, Yelp, TripAdvisor, and other search engines.
---
The landmark Microsoft case raises challenging questions concerning antitrust remedies. In this Article, we propose a framework for assessing the costs and benefits of different remedies, particularly divestiture, in monopolization cases involving network industries.
---
What is the proper legal standard for product integration involving software? Because software is subject to low marginal costs, network effects, and rapid technological innovation, the Supreme Court's existing antitrust rules on tying arrangements, which evolved from industries not possessing such characteristics, are inappropriate.
---
A "price squeeze," or "margin squeeze," is a theory of antitrust liability under section 2 of the Sherman Act that concerns a vertically integrated monopolist that sells its upstream bottleneck input to firms that compete with the monopolist's production of a downstream product sold to end users.
---
The Telecommunications Act of 1996 sets forth extensive provisions to unbundle the local telecommunications network to encourage the development of a competitive market for local telephone.
---
The September 2009 announcement that the Federal Trade Commission and the Antitrust Division of the U.S. Department of Justice have initiated a review of the Horizontal Merger Guidelines provides a formal process for redefining the proper role of dynamic competition in antitrust law.
---
J. Gregory Sidak, Dan Maldoom, Richard A.D. Marsden, Hal J. Singer
The Brussels Round Table, a forum of leading EU telecommunications operators and equipment manufacturers, commissioned these articles. They examine the deployment of broadband in European countries and make policy recommendations related to telecommunications regulation. Specific topics include pricing flexibility, competition, growth potential, likely future dynamics, competition, investment opportunities, eliminating excess regulation, facilitating longer-term points of view, and suggestions for transparent and competition-neutral subsidies.
J. Gregory Sidak
This book addresses deregulatory policies that threaten to reduce or destroy the value of private property in network industries without any accompanying payment of just compensation, policies that are termed "deregulatory takings." The authors further consider the problem of renegotiation of the regulatory contract, which changes the terms and conditions of operation of utility companies.
J. Gregory Sidak
Restrictions on foreign investment in U.S. telecommunications firms have harmed the interests of American consumers and investors, argues J. Gregory Sidak in this convincing study. Sidak shows why these restrictions, originally intended to protect America from the perils of wireless telegraphy by foreign agents, should be repealed...