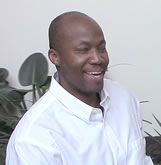 Andre S. Watson, PsyD, is a Child, Adolescent, Family, and Couples Psychologist in active clinical practice. Legally blind since age 9, he specializes in adjustment to Blindness and other sensory and physical disabilities.
Dr. Watson conducts individual short and long-term therapy with patients dealing with various DSM diagnoses, chronic mental health issues, adjustment disorders, post-traumatic stress disorder, and relationship problems. He delivers child, family, and couples' psychotherapy with diverse and underserved populations. Dr. Watson also facilitates adjustment to blindness groups for blind adolescence with the Overbrook School for the Blind. For this, and his dedication to his field, he was honored with the "Excellence in Empathy" award from Widener University.
Dr. Watson has significant teaching and public speaking experience. He delivers speeches to audiences, patients, colleagues, and readers about adjustment issues and the social and emotional changes that individuals and families may expect with a disability. Dr. Watson is the author of the book, Vision in the Dark: How Living in the Dark taught me to see the light. An accomplished athlete, he participated in the 2008 Para Olympics in Beijing, China for Judo.
Dr. Watson on Vision in the Dark
Litigation Support - Dr. Watson provides expert witness services for cases involving the social and emotional adjustment of disabilities. His services include medical record review, thorough reporting, deposition, and trial testimony as needed.
Areas of Expertise:
Clinical Psychology
Children and Family Psychology
Aggressive Child
Depression
Sexual Abuse
Domestic Abuse
Psychotherapy
Post Traumatic Stress Disorder (PTSD)
Adjustment Disorders

Adjustment To Blindness
Psychological Disabilities
Custody Issues
Competency Issues
Suicide
Anxiety
ADHD
Special Education
Blind Athletics
Andre Watson, PsyD
In seeing in the Dark, Andre Watson discusses his journey as a blind visionary. Even though he has no eye sight, he has used his life experiences to develop a new way of seeing himself, others, and the world. Overcoming the misconceptions of blindness proves to be fortuitous as Andre has strived to become a clinical psychologist, an accomplished athlete, husband, and father. The readers will get a glimpse into how he sees and how that way of seeing has helped inspire audiences, guide patients, and redefine what it means to "see" even if one is physically in the dark.
---