Structures, Buildings, Houses, Dwellings
Foundations, Footings, Elevators, Retaining Walls, Dams
Development Plan & Plats for Sites, Properties, and Residences
Underground & Subsurface Chamber / Chambers
Scaffold, Scaffolds, Scaffolding
Site Plans & Subdivisions: Industrial, Commercial, Residential
Roads, Roadways, Ramps, Walks, & Man Hole Cover / Covers
Sidewalks, Walkways, Paths & Pathways
Lighting: Lamps, Lights, Lamp Poles, Light Levels
Luminaries & Illumination (Specifications)
Rock Cuts & Blasting (Topography, Specification)
Soil Slopes / Samples / Mechanics / Geotechnical Engineers
Sanitary Facilities, Septic Systems (Board of Health Septics Approval)
BOHA / DEP Approvals
Water, Drains, Drainage, Sewer & Sewage Lines & Mains
Culvert / Culverts, Manholes (Man Holes) & Catchbasins / Catch Basins
Inspection, Supervision, and Certification of Construction
House Inspector & Inspections
Road, Roadway, Walk & Sidewalk Premises Liability (e.g., Steep Slope)
Walkway, Path, Ramp & Pathway Premise Liability (e.g., Steep Grade)
Coefficient of Friction / Slip & Fall (Snowy & Icy Conditions)
Vertical Discontinuity / Discontinuities / Trip & Falls
Small Ports / Port, Marinas / Marina, Marine Dredging
Levees, Jetties, Dolphins, Piers, Sea & Flood Walls
Wharves, Breakwaters, Bulkheads, Weirs, & Revetments
Groins, Dikes and Waterfront Structures
Drainage Basin Analysis, Rainfall, Floods & Flood Plain / Plains
Flooding Controls & Control Devices
Storm Water Runoff (10, 25, 50 & 100 Year Storms)
Pressure & Pressures: Wind, Wave / Waves, Ice, Snow
Rain Fall Run Off & Storm Water Pollution Treatment
Excavation, Grading, Fills & Filling Operations (Swales, Berms, Silt Fence)
Erosion Control, Sediment Barriers, Sedimentation / Catch Basins (Hay Bales)
Pumps and Pump System Line & Main
Slope, Dam, Levee, Jetty, Dolphin, Pier, Wharf & Breakwater Collapse
Bulkhead, Weir, Revetment, Groin, Dike, Footing & Foundation Failures
Failure of Fire Containment Wall, Elevator or Water Front Structure
Tenement House Façade Collapses
Code History of Existing Multiple / Multi-Family Dwelling / Building
Application of Municipal Building, Fire & Property Maintenanc

In many places of NYS, public water supply systems are available. If your site is situated in such a location, then the lots which will result from your contemplated subdivision will be required to draw their water supply from the municipal water system
---
As you enter into a contract to buy a piece of commercial or industrial property, you should always keep in mind that your new town and county have rules which you must abide by. With regard to the exterior areas of your premises, there are rules concerning your septic system, the maintenance of your building, the addition onto your structure, etc
---
In developing a vacant piece of land, steep slopes are often an issue. And, the more prevalent the steep slopes are on a site, the greater the likelihood that retaining walls will be part of the Approved Site Plan. Let us consider three municipalities which regulate the final allowable slopes for land which is filled, cut, or graded
---
40 Brambledown Road
Wallington SM6 0TF
GBR
phone: +442084012873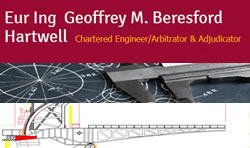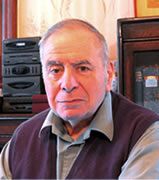 Geoffrey Beresford Hartwell
is a
Chartered Engineer
who practices as an Arbitrator, Adjudicator and Expert for Determination. Geoffrey is the former Senior Partner of Consulting Mechanical and Electrical Engineers BHA Cromwell House.
A one time Chairman of the Expert Witness Society, Geoffrey Hartwell has experience giving evidence in court (in both civil and criminal matters) and in International Arbitration. He sometimes is retained as a Single Joint Expert or as a Tribunal Expert. His services are offered to both Plaintiff and Defense. Even when retained on behalf of a Client he, like all Experts, has an overriding responsibility to the Court or Tribunal.
After his early career in aerospace and nuclear energy, Geoffrey entered private practice in association with the late Leslie Heap and Gerald Lewis of Heap and Digby, Consulting Engineers, in 1969. While with them he designed water and sewage equipment and also the bascule moving machinery for the Lowestoft Bridge, in Suffolk. He practiced also as Beresford Hartwell and Associates and, in 1971 established a separate office in Wallington, South London.
In parallel with his design career, Geoffrey was first appointed as arbitrator in 1972 and his first foreign arbitration, an ICC appointment in Switzerland, took place later that year. He studied Law to Intermediate level and then transferred to the examinations of the Institute of Arbitrators (now Chartered) of which he became Chairman in 1996-1997 and for whom he taught in various countries on several courses, including the prestigious Diploma in International Commercial Arbitration.
Technical Expertise
:
Electrical Engineering and Design
Mechanical Engineering and Design
Instrumentation
Automation and Computer Control Systems
Maritime and Infrastructure Engineering
Process Engineering
Solid Waste Handling

Communications
Manufacturing
Computer Cartography
Moving Bridges and Lock Gates
Construction Project Management
Nuclear Energy
Water and Waste Water Treatment
Arbitration
: Geoffrey Hartwell also acts as an arbitrator and adjudicator, as an expert mediator and conciliator, as an expert investigator and assessor for arbitral tribunals, and also as a Special Referee in the High Court of Justice of the Isle of Man. His services have been required in the UK and internationally.
Dispute Boards
: Geoffrey Hartwell has experience both as Member and as Chairman of Dispute Boards?. He has been a member of Dispute Boards, retained from the beginning of a project or, alternatively, appointed on an ad hoc basis when a problem arises, Dispute Adjudication Boards to determine a binding decision, and on Dispute Review Boards to make decisions that are advisory but not binding.
Adjudication
: Similar to arbitration, Mr. Hartwell adjudicates domestic and international disputes which are only temporarily binding unless otherwise agreed upon by the parties.
View Geoffrey Beresford Hartwell's Consulting Profile
.
International Commercial Arbitration, the chosen basis of the annual Willem Vis Moot, is arguably not au fond a process at law. It is quite simply the performance of an agreement between two parties to have a chosen third party hear and determine some difference between them.
---
William Dobson
CMI, LPI, IAMI, Certified Marine Investigator
540 Jackson Avenue
Mandeville LA 70448
USA
phone: 985-626-1876
fax: 985-626-3493

Wm. H. "Bill" Dobson
is a decorated veteran of the United States Air Force, retired Lt. Colonel, Commander of the Special Operations Division of the St. Tammany Sheriff's Office, with more than 30 years of public service. He is the cofounder and President of Applied Marine Technology, Inc., a consulting company incorporated in 1986 that specializes in
Marine Accident Investigations and Reconstruction
, headquartered in Louisiana with affiliates in Texas, Mississippi, Alabama, Rhode Island, Mass, Arkansas, Oregon and Florida.
Mr. Dobson is a court-accepted expert in Marine Accident Investigation and Reconstruction, Boating Safety, Navigation, Search and Rescue,Personal Watercraft Off Throttle Steering, and Air Boat Operations, in numerous Federal and State jurisdictions. He serves as Executive Director of S.E.L.S.A.R., Southeast Louisiana Search and Rescue organization, which comprises more than 140 Federal, State, and Local governmental and private agencies.
Mr. Dobson served as a member of the Louisiana Commission on Law Enforcement and Administration of Criminal Justice. He is the holder of the Airmen's Medal for heroism from the U. S. Air Force, was named the Law Officer of the Year by Kiwanis International, and is the holder of Outstanding Achievement Awards by the Louisiana Emergency Preparedness Association and the National Association for Search and Rescue. Mr. Dobson was selected as an Honored Member of WHO'S WHO in Law Enforcement for 1991 and was the 2003 recipient of the iami President's Award for Outstanding Achievement.
Areas of Expertise
:
Maritime Policies and Procedures
Maritime Water Safety
Boat Accidents and Reconstruction
Boat Fires and Explosions
Air Boat Operations
Memberships & Affiliations
:
International Association of Marine Investigators
Charter member of I.A.M.I. and serves on The Board of Directors for the United States
Member of American Boat and Yacht Council.