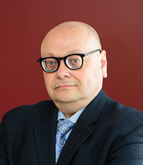 Alexander E. Obolsky, MD, DFAPA
, is board-certified and trained in
General, Addiction, and Forensic Psychiatry
. He possesses over 20 years of experience evaluating and treating patients in the Chicagoland area.
Dr. Obolsky has extensive training, experience, and understanding of medical and psychiatric illness, medical-psychiatric assessment, and various forms of mental health treatment. He can analyze and diagnose medical issues potentially presenting as non psychiatric symptoms. As a physician, Dr. Obolsky has also been trained in the field of
Pharmacology
both within and outside of General Adult Psychiatry. He has evaluated and treated patients with posttraumatic stress disorder (PTSD), mild traumatic brain injury (TBI), and other psychiatric and neurobehavioral disorders.
Dr. Obolsky's professional achievements include having established and ran The Division of Forensic Psychiatry at the Northwestern University Medical School and The Psychiatry and Law Program at Northwestern Medical Faculty Foundation. He worked as an Assistant Medical Director at the Illinois largest hospital for criminally insane. He has been featured in the "America's Top Psychiatrists" guide multiple times in the areas of conflict, stress, and trauma.
Litigation Support
- Dr. Obolsky's forensic practice is focused on evaluation of mental, emotional, and cognitive functioning, ascertaining current and past competencies for variety of life and work activities and functions, and identifying causation for mental conditions and functional deficits. He addresses such legal issues as fitness and competency in a variety of settings, e.g., ascertaining level of impairment for a particular function (fitness for duty), disability, and mental state at the time of the offense (NGRI), among other competencies.
Uniquely qualified to consult in will contest cases, Dr. Obolsky takes into account the effects of physical injuries, illnesses, location (e.g., ICU, nursing home, isolation), and medications on individuals' testamentary capacity and ability to withstand undue influence. Past cases have included personal injury, probate, workers' compensation, and criminal law. He also works with corporate occupational health and HR departments.
Areas of Expertise
:
PTSD
Traumatic Brain Injury
Pain / Suffering
Depression
Chronic Pain
Toxicity
Burns
Neuropsychiatry
Medical Malpractice
Personal Injury

Impairment
Insanity
Fitness for Duty
Malingering
Workers Compensation
Sexual Harassment
Disability
Discrimination
Competency
Addiction Psychiatry
View Dr. Obolsky's Consulting Profile
.