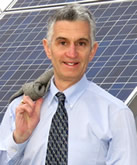 Curt M. Freedman, PE, CEM, CEA, LEED AP
, has over 30 years of experience as a
Mechanical Engineer
. He is registered to practice in Connecticut, Maine, Massachusetts, New Hampshire, New Jersey, New York, Pennsylvania, Rhode Island, Vermont, Maryland, and Ohio.
Litigation Support
- Mr. Freedman provides forensic engineering services for the insurance industry and attorneys representing Plaintiff and Defense. With a portable microscope diagnostic camera, his investigations include material science evaluations, as well as mechanical and structural evaluations. Mr. Freedman's background also includes designing, engineering, and constructing HVAC systems, plumbing systems, and utility conservation products for the residential, commercial, and industrial sector.
Curt Freedman also offers professional forensic services for the
Investigation of Child Heatstroke / Hot Car Incident Deaths
. His detailed services in this area include evaluation, field testing, and analytic modeling to determine real time interior temperature of the subject vehicle.
Areas of Expertise
:
Appliances
Building Temperature Modeling
Carbon Dioxide Gas Testing
Carbon Monoxide Investigations
Compressed Air Systems
Construction Cost Evaluations
Controls Systems
Fire Sprinkler Systems
Flat Plate Solar Panels
Forklifts
Furnaces
Hydronic Boilers
Industrial Accidents
Fire Sprinkler Head Failures
Ladders
Loss of Heat / Fuel Freeze
Manufacturing Equipment Accidents
Metallic Pipe Fitting Failures
Motor Failures
Plastic Fitting Failures
Plumbing / Piping Systems
Rooftop HVAC Equipment
Stairs, Ramps
Slips & Falls
Steam Boilers
Photo-voltaic Solar Panels
Pump Failures
Solar Insolation Modeling
Toilet Failures
Water heater failures;
View Curt Freedman's Consulting Profile
.