Avinash Vashistha
Chairman / CEO
2/10, II Floor
RMV Extension, II Stage , 80 Feet Road
Bangalore 560094
IND
phone: 91-80-23519760
fax: 91-80-23519762

Avinash Vashistha has dedicated his career to the unique requirements of the Global Outsourcing Market. His background and understanding of the practices surrounding Offshore Markets provides clients with a custom offshoring strategy, supplier / build mapping, favorable pricing, reduced risk, successful transition and sustainable performance contracts that address issues unique to offshore delivery.

Mr. Vashistha has evaluated and conducted due diligence on over 200 supplier firms, including companies in India, Russia, China, Philippines, Malaysia, C&E Europe, US, Canada, UK, Ireland and Vietnam. He has directed sourcing assessments, IT and BPO / KPO sourcing transactions and executed program governance models realizing $6 Billion in savings for clients. Avinash also developed significant expertise in the areas of R&D, Technology, Human Resources, Finance and Accounting, Analytics, Investment Research, claims processing and other domain specific voice and back office business processes. Mr. Vashistha has been a strong proponent of well-qualified, but lesser known tier-two suppliers in the competitive sourcing process.

Thought Leader: His opinions are sought and recognized by worldwide organizations and conference organizers such as IDC, NASSCOM, CITEM, C-Level, Private Equity Conference, the Indo-American Chamber of Commerce, CII, SBPOA and IAOP. Leading media conglomerates such as the Wall Street Journal, Financial Times, Time, The Straits Times, The Business Times, USA TODAY, CNN, CNBC, Forbes, Business Week, Bangkok Post, NDTV, Times Group, Business Standard and Cyber Media have featured Avinash extensively. He has been recognized by HRO Today as 'HRO Superstar' for 2006 and 2007 in the category of thought leaders and advisors on outsourcing. He has also been recognized as 'FAO Superstar' for 2007.
Dr. Karina Sneiderova, MBA, ICFA, ASI
Vice President
Headquarters
Rue General Dufour 22
Geneva CH-1211
CHE
phone: 41-225-752-948
fax: 41-225-948-025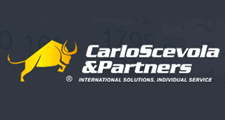 Carlo Scevola & Partners is an International Fiduciary Company
headquartered in Geneva, Switzerland, with branches in six continents. We specialize in
International Planning, Strategic Consulting and Wealth Management
.
Our clients trust us for everything from setting up an
Offshore Company to Mergers and Acquisitions to Business Finance and Asset Protection
. CS&P's customer-centric methodology ensures that each client gets a custom-tailored solution which addresses that business' individual objectives and requirements.
Our team has expertise in every functional category and every important geography. From finance to operations to human resources to marketing –
from the Americas to Europe to Africa, Asia and Oceania
– CS&P can bring together experienced executives who know how to advise you and will make your enterprise a success. All this while always protecting your privacy.
Services Offered
:
Business and Strategic Consulting
S.W.O.T. Analysis
Pre-investment Feasibility Studies / Competitive Background Assessments
Business Plan Research, Writing and Production
Strategy Definition / Implementation
Reworking of Operating Processes for International Suitability
Industrial Partnership Scouting / Matching
Tailor Business Model to Market Environment, Jurisdiction and Local Authorities Requirements

Corporate Finance:
Mergers, Acquisitions and CessionsCommercial Due Diligence or Investment / Financial Appraisals
Company Reorganization and Restructuring
Financial Feasibility Plans for Industrial Expansion
Scouting / Recruiting Highly Qualified Financial Management
Exit Strategies in the event of Buy-outs, Buy-ins, Spin-offs or MBOs, MBIs and LBOs
Listing on Stock Exchanges

Offshore Consulting:
International Tax Planning
Corporate Structuring, Maintenance and Trusts
International Contracts Law
Jurisdictions
Residency and Citizenship
International Banking
Logistic Support
Government Licenses
Aircrafts and Vessels
Intellectual Property



CS&P Operates In More Than 80 Countries Around The World.



Carlo Scevola and Karina Sneiderova
Intended as a unique source of inspiration for effective business organization and tax planning, as well as a quick and easy reference book, the Offshore Jurisdictions Guide is a comprehensive and objective guide to offshore jurisdictions offering personal taxation and business opportunities. Providing a solid overview of 100 jurisdictions around the world, this is an essential handbook for financial experts, legal advisors, consultants, and the general public.