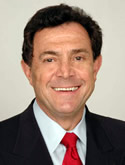 A. Chasby Sacks, MD, CIME, MB BCh, FAACS., FICS
, is a Plastic Surgeon and is board certified by the American Board of
Cosmetic Surgery
and he is also a full Fellow of the American Academy of Cosmetic Surgery. He has been in private practice for 40 years.
Dr. Sacks is a member of the American Society of Liposuction Surgery, the American Society of Cosmetic Breast Surgery, and is a Fellow of the International College of Surgeons. He has served on the Board of Trustees of the American Academy of Cosmetic Surgery where he also has served as Treasurer. Dr. Sacks currently is a Trustee of the American Board of Cosmetic Surgery, has served as their Treasurer, and is also an examiner for this Board's examination process.
Experience
- Dr. Sacks has performed over 18,000 cosmetic procedures to-date and has an excellent reputation both nationally and internationally. He has lectured at international scientific Cosmetic Surgery meetings and has been published in a textbook on Body Contouring as well as in various national magazine articles on Cosmetic Surgery.
Dr. Sacks - Informational Video on Plastic Surgery
Litigation Support
- Dr. Sacks specializes in pre-trial / pre-litigation medical consulting to attorneys. He is Board Certified by the American Board of Independent Medical Examiners (ABIME), holds the prestigious CIME certification, and is also a member in good standing of the American Academy of Disability Evaluating Physicians (AADEP), now called IAIME or International Academy of Independent Medical Examiners.
Dr. Sacks has consulted on many hundreds of legal cases covering a broad range of medical issues and questions. He has experience in personal injury, worker's compensation, insurance bad faith, and many other kinds of cases.
Services Include
:
Disability Evaluation for Workmen's Compensation
Interpretation of Meaning
Medical Summary Reports
IME Observation and Rebuttal Reports
Medical Research
Liaison to Treating Doctors

Assessment of Future Medical Costs
Medical Case Coordination
Independent Record Reviews
Question Preparation for Depositions / Court
Facilitation with Service / Government Agencies
Tableside Deposition & Court Assistance