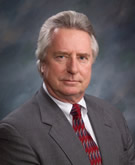 Heinz E. Ickert, CPA/CFF, CFE, CVA
, is a litigation and forensic expert with 35+ years of experience in
Forensic and Investigative Accounting
and litigation support.
Mr. Ickert has extensive experience in the investigation, detection, and deterrence of
Fraudulent Activity
on the part of employees, management, and other third parties. He has valued numerous privately held entities in potential merger and acquisition transactions or marital property settlement. His involvement in patent infringement, theft of trade secret, and copyright infringement has included computation of damages incurred and evaluation of opposing parties' expert reports.
Litigation Support
- Mr. Ickert's experience includes working with both plaintiff and defense counsel as a consultant and/or expert witness. His verbal and written communication skills have assisted juries and triers of fact in arriving at sound conclusions based on the facts of the case and evaluation of damages based on computations supported by sound economic principles and accepted methodologies. Mr. Ickert is able to unwind complex financial transactions and complicated subjects and render them comprehensible in nontechnical everyday language. He has experience testifying in state and federal court.
Heinz Ickert provides a full range of forensic accounting, investigative, and litigation support services to legal counsel including:
Deciphering complex financial transactions and structures
Explaining advanced economic and financial concepts
Assisting with discovery in the preparation of complete interrogatories and requests for documents
Suggesting inquiries to be made of opposing parties or opposing experts in deposition or trial
Evaluating the merits of a case from a financial and economic standpoint
Areas of Expertise
:
Business Valuation
Bankruptcy
Commercial Damages
Business Interruption
Intellectual Property Matters
Lost Profits
CPA Malpractice
Damage Calculations

Fraud Detection, Deterrence
Domestic Relations Disputes
Construction Claims, Project Audits
Shareholder Disputes
Contract Damages
Royalty Disputes
Mergers & Acquisitions
Impairment of Value
View Heinz Ickert's Consulting Profile
.
Ohio Office
150 E. Mound Street
Suite 312
Columbus, OH, 43215
Telephone: 614-464-3343
Florida Office
2015 S. Tuttle Ave.
PO Box 1418
Sarasota, FL 34230
Telephone: 941-343-7620