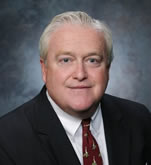 James E. Fitzgerald
has over 35 years of global experience creating value in the
Real Estate and Hospitality Sectors
.
Mr. Fitzgerald is a highly skilled negotiator with deep expertise in consulting, finance, due diligence, loan origination, asset management, acquisitions, divestitures and workouts. He is a professional with an expansive network of relationships throughout the private equity, investment banking, real estate, legal, and hospitality communities.
From 2006 to 2016, Mr. Fitzgerald served as Managing Director of Hotel Investments for Principal Global Investors. In this role, he created and executed a hotel investment program for Principal Real Estate Investors of over $4 billion. Mr. Fitzgerald led Principal's efforts as JV partner on 1002 room JW Marriott Resort in San Antonio- $500 million project and exceeded budget for seven consecutive years. Over the course of his career, he has:
Advised on over $10 billion of hospitality transactions
Originated billions in hotel mortgage debt: CMBS, whole, and mezzanine Loans
Founded and successfully grew a national investment and advisory practice
Provided advisory and due diligence services to private equity firms and major hospitality corporations and hotel owners
Litigation Support
- James Fitzgerald and his team at Dauntless Hospitality Advisors provide attorneys with sound knowledge as they represent owners, lenders, managers, and brands. Services could address:
Bankruptcy / Workouts
Operational Matters
Owner / Operator Relationships
Management and Franchise Agreement Issues

Asset Management
Market Analysis
Valuation
Capital Structure
View James Fitzgerald's Consulting Profile
.
As an operating business without the benefit of long term leases, hotels can be volatile. With a perishable inventory of rooms to be sold each night, sophisticated marketing tactics are critical. In good times, it is easy to make money; however, as the economy slows, and new supply enters the market, cash flows lessen, and tensions rise. This is particularly true for overleveraged hotels.
---