FAI Materials Testing Laboratory, Inc. (FAI)
is a full service
Analytical, Failure Analysis, and Materials Testing
laboratory. They are professional scientists, chemists, and engineers with decades of experience solving problems in a host of industries. Founded in 1999, they have served hundreds of companies across the world.
Litigation Support
- FAI leverages their considerable experience in litigation and extensive laboratory resources to support their expert testimony. Their goal is to effectively support their clients in challenging cases. FAI has one of the finest laboratory environments for conducting joint inspections in the nation including photographic, videographic, and microscopic documentation capabilities.
Areas of Expertise
:
Analytical Chemistry
Cleanliness Testing
Composite / Window Lamination Issues
Corrosion
Electrical and Electronic Failure
Failure of Composites



Failure of Pressure Vessels
Fatigue Failure
Foreign Substance Identification
Fractography
Materials Compatibility
Materials Science
Optical and Electron Microscopy
Particle Characterization


Pharmaceutical Analysis
Protein Characterization
Polymer Chemistry
Support for Patent and Product Litigation
Textiles
Tire Failure
Weld Quality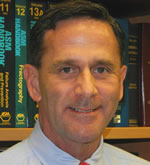 Jon M. Crate
is the founding President and CTO of FAI Materials Testing Laboratory. He received his bachelor's degree in Chemistry from University of Central Florida, his Master's in Polymers from the MSE Department of Georgia Tech and three years of postgraduate education in Molecular Cell Biology and Biochemistry at the University of Alabama in Birmingham.
Mr. Crate is a
Analytical Chemistry
and
Materials Failure Analysis
expert witness who has leveraged leveraged his expertise to determine and prove the true causes of failure of many different products enabling many cases to settle out of court. He has testified by deposition in over 50 cases, before juries more than 10 times, and proven failure cause many more times where litigation was not needed.
Mr. Crate is experienced and well versed in the chemical analysis and physical characterization of
Natural
and
Synthetic Polymers, Metals, Inorganic and Organic Compounds
, and
Composite Materials
. He has performed failure analysis on a wide variety of products and components including underground gas and water pipe, commercial aircraft tires, large equipment, rig, light truck, automotive and motorcycle tires, swimming pools and pool coatings, tank coatings, assault resistant commercial window laminates, numerous aircraft components, sailing vessel components, weapon system components, power generation equipment components, and medical devices including artificial heart valve.
Jon M. Crate is capable of designing and validating test and inspection protocols that will enable the determination of the causes of failure for a wide variety of products and components.
View FAI's Consulting Profile
.