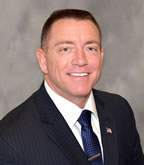 Dennis Root
is a renowned
Law Enforcement Trainer
and nationally recognized
Police Practices and Procedures Expert
.
Mr. Root's primary focus is the
Use of Force
by law enforcement and for self-defense. His area of expertise has him working force cases across the United States and he has appeared on
CNN, HLN
, and many national and local news media programs. He also served as the use of force expert during the well-publicized cases involving George Zimmerman (FL) and Micah LeMaster (WV).
Mr. Root has a law enforcement career that spans more than 27 years. His full-time law enforcement service began with the City of Riviera Beach in 1989 and continued until he resigned from the Martin County Sheriff's Office in 2011. After leaving the Sheriff's Office, he accepted a part-time position with the Town of Palm Beach Shores Police Department and served as the Director of Internal Affairs and Training.
During his law enforcement career, Mr. Root's duty assignments have included Road Patrol, Traffic, Detective, Training, Canine, Internal Affairs, and Program Commander of the Sanctions Enforcement Unit of the Martin County Sheriff's Office JOTC. He also served as the use of force specialist for the Martin County Sheriff's Office.
Dennis Root is part of a panel of guests on the Anderson Cooper Show discussing the shooting death of an individual with mental health issues.
Litigation Support
- Since leaving full time law enforcement, Mr. Root founded Dennis Root & Associates, which handles cases in both State and Federal court. In addition to his extensive background in use of force and self-defense, he has also been judicially recognized as an expert witness in DUI enforcement and investigations.
Mr. Root's vast law enforcement experience empowers him with a keen insight into the complexities of the cases being brought before these courts. He has earned a solid reputation for remaining neutral and conducts independent reviews of investigations conducted by law enforcement Internal Affairs Divisions. Mr. Root believes in transparency and accountability and he is willing to hold organizations accountable for their actions in the same way he applies the law to the individual.
Areas of Expertise
:
Police Practices and Procedures
Self Defense
Police Training Standards
Police Use of Force
Individual Use of Force / Personal Safety
Deadly Force
Excessive Force
Canine Applications
O.C. Aerosol Sprays

Traffic Enforcement
DUI Enforcement
Arrest, Control, and Restraint
Conducted Electrical Weapons (CEW)
Firearms
Handcuffing
Police Investigations
Officer Involved Shooting
Impact Weapons
View Dennis Root's Consulting Profile
.