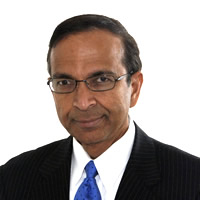 This article discusses some findings about automobile safety in frontal crashes. As is known, the NHTSA as part of their 'New Car Assessment Program' (NCAP) with the stated intent of helping customers select vehicles that are 'safer' according to NHTSA's ranking of 'more stars'. This rating system was revised some years ago for automobiles of model years 2011 and later (http://www.safercar.gov/ staticfiles/safetytech/st_landing _ca.htm). One of the interesting aspects of the new NCAP is that NHTSA publishes an 'overall score' for the vehicle's crashworthiness by combining the scores from frontal crash, side impacts and rollovers. Other significant changes in the NCAP are the addition of a test dummy representing small occupants, the inclusion of new injury-related parameters and significantly raised thresholds for achieving the highest (five stars) rating. Since wide publicity is given to NCAP scores and all vehicle manufacturers try to achieve the highest possible ratings for their new product, these ratings serve as mandates in vehicle design.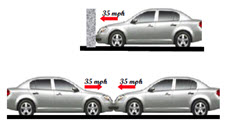 NCAP Tests for Frontal Crashes:The test configuration for this mode is 35 miles per hour impact of the vehicle into a fixed rigid barrier. This simulates crashes with fixed and rigid objects on the road and also represents full frontal crash of the car with another identical car. In these tests, the driver is represented by an anthropomorphic test device (ATD) simulating a fiftieth percentile male whereas the front passenger ATD simulates a fifth percentile female. The measured parameters are the responses of head, chest, femurs as well as the forces and moments on the neck. These measurements are used to calculate 'relative risk' scores which are then translated into separate 'stars' for the driver and the passenger. According to NHTSA, the following relationship exists between the ratings ('stars') and the risk of injury in frontal crashes.

ANALYSIS OF NHTSA'S TEST DATA
Background:The figures below show a driver ATD in a test as well as its response parameters. All the responses have been normalized (with different normalization factors as described in NCAP test procedures) so that they can be compared in one plot.
---
Dr. Mukul Verma, is a well-known expert in Automobile Safety and Crashworthiness, Vehicle Structures, Product Design, and Statistical Analyses of Traffic Trends and Regulations . He has worked in many engineering and management positions at a major automobile manufacturer including assignments in R&D, vehicle design, analysis and testing and engineering program management.

©Copyright - All Rights Reserved
DO NOT REPRODUCE WITHOUT WRITTEN PERMISSION BY AUTHOR.