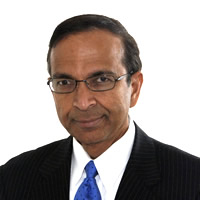 The structural properties of an automobile's seats and seatbacks are important factors in investigating injuries to a vehicle's occupants involved in rear crashes. It is sometimes stated that such injuries occur when seatsbacks deform excessively, resulting in the person's impact with injurious parts of the vehicle or with another occupant. It is also claimed by some that a stronger structure for seats & seatbacks would reduce or prevent these injuries. This article discusses the merits of such 'stronger' structures in preventing injuries in rear crashes.
STRUCTURAL MECHANICS OF SEATS
When a vehicle is hit in the rear by another vehicle, the relative motion between the person in the seat and the seat/seatback causes dynamic loading on the seat structure, leading to deformations of the seat & seatback consisting of: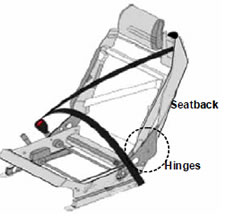 Compression of the padding on seat/ seatback
Deformation of seatback structure
Deformation of the seat bottom structure
Deformation of recliner mechanism
Deformation of the vehicle floor and resulting motion of seat and seatback
THE LAW:
There are no US laws requiring dynamic tests of seats or seatbacks in high speed rear crashes. However, there are quasi-static test requirements (FMVSS 207 and FMVSS 210) for structural strength of seats and their attachments to the floor. Another regulation (FMVSS 202a) governs the design of headrests. In addition, Insurance Institute for Highway Safety conducts tests simulating low speed rear crashes and rates the vehicles in four different categories of performance.
THE STATISTICS: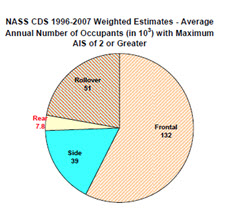 The average annual number of occupants that suffer injuries of AIS 2 or greater, in various modes of impact, was estimated from the NASS-CDS database for the years 1996-2007 (see Verma & Goertz, "Evaluation of Pre-Crash Sensing and Restraint Systems Effectiveness", SAE Paper 2010-01-1042) and is shown here. It is observed that rear impacts are associated with comparatively fewer injuries than the other crash modes.
PAST RESEARCH:
Simple relationships between the ΔV (change in velocity of the vehicle) and injury parameters have been proposed to explain the complex phenomena of injury causation in rear crashes. For example, Saczalski et al (SAE paper 2003-01-2205) concluded that 'stiff' seatbacks provide equal or better protection than 'yielding' seatbacks and defined 'serious injury zone' and 'no serious injury zone' based on the mass of the occupant.
---
Dr. Mukul Verma, is a well-known expert in Automobile Safety and Crashworthiness, Vehicle Structures, Product Design, and Statistical Analyses of Traffic Trends and Regulations . He has worked in many engineering and management positions at a major automobile manufacturer including assignments in R&D, vehicle design, analysis and testing and engineering program management.
©Copyright - All Rights Reserved
DO NOT REPRODUCE WITHOUT WRITTEN PERMISSION BY AUTHOR.