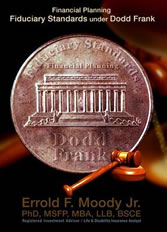 Elder Investments: A Critique Of Professional And Consumer Mediocrity
Originally published in
Marquette Elder's Advisor
Volume 10, Issue 1
Fall, 2008
By: Errold F. Moody, Jr.
PhD, MSFP, MBA, LLB, BSCE

Tel: (352) 794-0212
Email Errold F. Moody

View
Profile
on
Experts.com
The elderly continue to face an alarmingly high level of fraud and unprofessional behavior by numerous advisors and salespeople within the securities, insurance, and financial planning industries. The situation shows no signs of improving, in part because of the poor training of governmental licensees and proliferation of secondary licenses and titles used by investment, insurance, and planning "professionals" to earn the trust of the elderly. The services provided by the titleholder are often complex, difficult for people to understand, completely misunderstood, or simply fabricated. They are used to encourage elders to invest their money in ways unsuitable to their best interests.1 Evidence of the complexity of the problem can be found in the requirements to obtain these licenses, designations, and titles. Unfortunately, these licenses and various designations and titles do not demand that individual licensees necessarily understand the fundamentals of investing.2 Further, most are not subject to government oversight or regulation.3 Industry licenses and designations - supposedly portraying knowledge and competence - abound, but only a couple are worthy of consideration. Because the industry does not require a fundamental knowledge base to obtain a financial planning designation, planner incompetence can make it impossible for the consumer to understand the investment process and, as a result, millions of dollars of consumer money are lost each year because the supposed experts marketing these products lack an understanding of their features and nuances.4 Or, they simply don't care to find out.
That said, most consumers undertake little effort to reasonably review their financial service purchases. More often, the primary focus for the selection of an advisor is based on the establishment of a personal relationship that has nothing to do with financial competency.5 Most notable are looks, golf game, and similar religions. Consumers, perhaps particularly older people on limited budgets, are particularly susceptible to solicitations offering free giveaways or food seminars.6 As a result, thousands of the elderly "invested" millions of dollars for debatable products primarily in exchange for dead chickens. It is absolutely tacky, but true.
In an effort to protect senior investors, the states and the federal government subsequently began to monitor the practices of advisors who exercise these free lunches.7 But such effort is well after the fact; the financial damage has been done. More importantly, psychological damage has been done when susceptible people recognize they have been duped. And the older people typically are even more disinclined to pursue other, more appropriate, financing packages that their expanding budgets and limited resources would warrant. Given such real life emotion, along with current lax or nil oversight by either governmental or professional organizations of unsuitable activity, the investor will not be protected from unknowledgeable or unscrupulous agents.
Critics may initially feel that this commentary is controversial or off-base considering the millions of dollars spent by the Securities Exchange Commission (SEC), Financial Industry Regulatory Authority (FINRA), North American Securities Administrators Association (NASAA), Department of Labor (DOL) and every state insurance department to offer supposed guidance, making sure that investments of any type will be suitable given the needs and circumstances of the individual investor.8 Millions are spent in licensing training for thousands who enter the business each year, yet there is no training on suitability.9 When the current system fails, millions more are spent in arbitrations, mediations, and lawsuits to address the failed suitability of the approved investments.10
This article asserts that investor problems are caused primarily by one major issue - lack of knowledge. Knowledge is woefully nonexistent at all levels in American financing, investing, and retirement planning.11 This article examines the various recent systemic failures that demonstrate how lack of knowledge, along with forces and incentives, continue to promote system failure despite its grievous impact on individuals, especially the elderly who rely on their investments for income when they can no longer work. The first section of this article reviews the knowledge required to qualify for various levels of individual licensing. The second section of this article provides an overview of the financial products available in the market and attempts to analyze where the failures in investor knowledge are most apparent.
Licensing of Individuals To Sell And Abuse
With the following education, individuals can hold licenses to advise the public and other licensed individuals regarding investments and other products.
The Series 7 General Securities License
This is licensing for general securities registered representatives, including most stockbrokers.12 The Series 7 securities license concentrates study of various elements of stocks and bonds, leading to a six-hour qualifying exam.'3 This license represents less than one college course on finance. While the course materials cover some investment fundamentals, other important fundamentals are not covered, such as alpha, beta, correlation, diversification, asset allocation, standard deviation, Monte Carlo, and more.14 Instruction covers what material the student is tested on, but not what is needed for real life application. Continuing education was mandated in the early 1990s, but none of it demands knowledge of the fundamentals either.15
For example, no instruction for the use of a financial calculator is mandated.16 Basic mastery of a financial calculator is imperative. Such a calculator can calculate present and future value. For example, it can tell you what a value of an asset will be in the future given the time and return, or what an asset to be received in the future might be worth now given the same particulars and an assumed inflation rate. Admittedly, there are preprogrammed computer software programs that can do the basics, but the personal capability with such a calculator allows personalized input for a particular investor. If an advisor cannot even use a financial calculator, it is impossible for that advisor to discuss money or how it works. FINRA is the largest independent regulator for all securities firms doing business in the United States and oversee nearly 5,000 brokerage firms, 175,000 branch offices and 680,000 registered securities representatives.17 None has ever had any financial calculator training during securities licensing training. Due to this unbelievable "oversight," it is debatable if FINRA officers can use one. I think not.
Further, very little formal guidelines exist for suitability to match investment and investor. Diversification, by the numbers, is not even touched upon. An advisor who does not understand diversification cannot understand risk, and therefore cannot understand suitability. Hence, they should not be used except with extreme skepticism or for very specific purposes.
As author Rick Ferri noted,
In this surreal world of investment advice, anyone can claim to be an expert and get paid for it. This is why most stockbrokers, financial planners, and insurance agents are in the business, and why accountants, attorneys, and bankers want in as well. The problem is, most investment advisors are borderline incompetent. Thousands of them lack the basic investment skills and knowledge of a first-year business student.18
Pundits may raise a hew and cry regarding such comments. But then, how could Lehman, Merrill, et al., go down the tubes if risk and suitability were formally taught and understood?
Series 24 General Securities Principal License
This license is for those who supervise the activities of other agents, generally Series 7 brokers.19 Topics that are tested include Supervision of Investment Banking, Trading Market Supervision, Sales Supervision, Primary and Secondary Markets, Investment Companies, and Supervising Customer Accounts and Orders.20 But nothing on the application of products.
Most licenses in the securities industry fall in the above two categories. In each case the dominant focus for consumer protection - a complete understanding of suitability - is noticeable by its inadequacy. For each of these licenses, while the suitability of investments is covered to a small degree, there is insufficient training to formally protect consumers.
Insurance Sales License
All states now require that individuals obtain a license in order to sell life insurance.21 However, the coursework requirements can vary greatly between states from mandated formal instruction in a classroom. California, for example, requires thirty-two hours of training, including twelve hours on ethics, and Alabama requires a mere twenty hours of training.22 Other states, such as Idaho and Arizona, have no formal classroom instruction.23
There is a valid reason why the consumer has a negative impression of insurance salespeople. Forgetting the incentives of commissions to sell regardless of suitability, the background instruction is abysmal. Even California, with its thirty-two hour life insurance only course, which is more extensive than any other state at this time, fails to demand a review of product suitability.24 There is no mandatory instruction for the use of a financial calculator, as described above. There is nothing on an analysis of policy illustration explaining, supposedly, how the policy will work over time. This training is critical since it is used in almost any sales attempt. It is also a main element in complaints and law suits because it can be manipulated in various--almost indecipherable--methods. It can only be hoped that the financial advisor learns these skills. However, the author has not found this to occur.
In addition to this lack of training, there is the almost exponential increase in product types including variable annuities, life insurance, equity indexed funds, and every type of combination one can imagine. Few advisors, let alone customers, are able to understand all of these product types. For example, as a person with experience in the field, the author knows agents should also be familiar with Stranger Owned Life Insurance and Viatical Settlements. However, even the most stringent state licensing instruction requirement, like California, covers none of these in detail, if at all.25 This is problematic given that sellers need to fully understand these products in order to effectively utilize them for customers. Therefore, many agents are decidedly poorly trained to advise consumers because they are unfamiliar with the products they are selling. To compensate for this lack of knowledge, they distribute whatever information and marketing material that they might receive from the life company or an insurance agency, and this marketing collateral is primarily designed to sell the product. The author does note that various caveats are offered in some marketing collateral and within the formal contracts, yet there is hardly any person, including insurance staff and officers, who truly understand the implications of the rhetoric. Consumers do not read the contract. For the few that might attempt it, without an insurance background, they will not understand it.
Nevertheless, if one is seeking insurance, the only way an individual can get information on such products is by consulting with a licensed agent.26 There is no service that provides information or critiques about the innumerable policies for consumers. The insurance companies only send the information to agents via mailing and e-mail lists purchased from state insurance departments.27 As a result, consulting a licensed insurance sales agent is the best and probably only way to get the most current information on the products.28
Certified Financial Planner (CFP) License 13
The CFP license is the most common financial advisor designation in the United States.29 Note that this is NOT a formal license by any governmental entity--merely a designation bestowed by the CFP Board of Standards if certain criteria have been met. The training covers seven courses that include: General Principles of Financial Planning, Insurance Planning and Risk Management, Employee Benefits Planning, Investment Planning, Income Tax Planning, Retirement Planning, and Estate Planning.30 The CFP courses encompass about one semester of college work. Some students will attend a formal classroom, though it is not necessary to prepare for the exam, as a student can take the courses via self-study.31
Under guidelines enacted in 2007, new licensees are required to pass a ten-hour exam.32 As of March 1, 2007, a new licensee is also required to have a college degree.33 However, the degree can be in any discipline.34 Licensees are required to have three years of experience before they are permitted to provide financial planning to customers.35
This designation is highly marketed and coveted because of the supposed ability to do comprehensive planning for the consumer.36 The problem becomes that the consumer reasonably perceives that the licensee will offer sophisticated planning, but basic requirements do not provide the knowledge to make that expectation realistic. For instance, when the author got the designation in 1984, he found that the material did provide insight into many areas that would not have been identified through any other licensing curriculum. The caveat was that the material did not make one very astute or knowledgeable in the complicated and immense subject matter.
A review of course material shows that not much has changed since the author completed the course in 1984. For example, the material still does not adequately demonstrate risk (though little was statistically notable or available in 1984). Statements from a CFP "graduate" in 2004 indicated that diversification was not taught. The Brinson Beebower review offers asset allocation modeling but with the wrong focus.37 Also problematic is that none of the models is complete or applied to actual situations. There is no material regarding the odds of loss (addressed below). In other words, without a definitive study of each area of financial planning, and without applying this information to real-life scenarios by professionals, there is nothing to guarantee that students will come away with competent and thorough planning expertise. The author notes that some instructors and material may try to offer real life examples, but a one-semester orientation to planning in no way indicates comprehensiveness nor competency by the instructor.
Finally, another critical area of study to consider is insurance. It is well-known in the industry that this section of CFP study is inherently weak. The CFP exam does not cover the material as inclusively as the licensing exam for California (the only state the author can comment on directly), or as inclusively as the Life and Disability Insurance Analyst exam.38 However, despite these problems, one positive note is that, unlike some of the other licensing requirements, the CFP instruction exam requires the ability to use a financial calculator, which at least ensures that CFPs will possess a minimum level of competency in this area.39
Chartered Financial Analyst (CFA) License
Individuals who possess this designation focus almost exclusively on investing and minimally on financial planning.40 Individuals with CFA licenses must go through a highly disciplined and intense study of investing with a major focus on stocks, bonds, and portfolio management.41 While the public might be well advised to use these licensees, they almost always work for institutions rather than individuals.42
Other Financial Advisor Designations
In addition to the designations discussed above, there are over one hundred other financial service designations offered to the public, and more are being added each year.43 For example, there are also licenses to be a Chartered Financial Consultant (ChFC), an Accredited Personal Financial Specialist (APFS), and a Chartered Investment Counselor (CIC), to name a few.44 Although these various designations may focus on some areas that might assist consumers with their financial planning, due to the limited scope, and generally limited instruction required to obtain them, consumers should not consult with any individual licensees without doing some personal research into the licensee's individual background and knowledge.45 Generally, the same elements not covered in the CFP instruction are missing from instruction for these designations. However, the ChFC is heavily grounded in, and focuses on, insurance education. But the author has found that the focus is designed to sell life insurance, for its "ability" to solve most financial problems. That simply is untrue.
The National Association of Personal Financial Advisors (NAPFA) is a national organization promoting comprehensive fee planning. It also touts its "highest standards for professional competency, comprehensive financial planning, and fee-only compensation."46 There are over 200 members in California.47 In the mid 1990s the author took them to task for violating state law. An officer replied, "We always knew what the law was, we just figured we'd never get caught, and if we did, we'd simply get the law changed." The law remains intact--further necessitating the following statement in 1998 from a meeting by the State Department of Insurance regarding illegal planners:
Download PDF version to read remainder of article and references...
---
Errold F. Moody, Jr., has the most extensive background in Financial Planning in the United States (Ph.D., MSFP, MBA, LLB, BSCE). Dr. Moody has over 50 years of hands-on experience as a financial and real estate consultant to various title companies, corporations, CPA's, attorneys, partnerships, credit unions, non-profit organizations and individuals. For the last15 years, his major effort/focus has been to provide education and guidelines regarding the fiduciary responsibility owed by the industry to the middle and lower class consumers (though valid at any level). The above article covers the critical, non transparent areas needing SEC, FINRA, DOL, ERISA rules revisions et al before the industry can truly help consumers with a real life understanding and knowledge of RISK.
©Copyright - All Rights Reserved
DO NOT REPRODUCE WITHOUT WRITTEN PERMISSION BY AUTHOR.
;