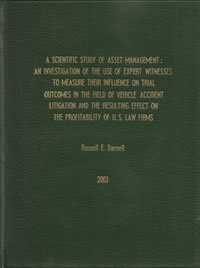 A Scientific Study of Asset Management: An Investigation of the Use of Expert Witnesses to Measure Their Influence on Trial Outcomes in the Field of Vehicle Accident Litigation and the Resulting Effect on the Profitability of U.S. Law Firms
By: Russell E. Darnell, Ph.D.

$190.00 (Includes shipping & tax)
Purchase From Dr. Darnell Directly: Tel: 916-825-5592
PO Box 5586, El Dorado Hills, CA 95762
Email Dr. Darnell
View Dr. Darnell's Expert Witness Profile on Experts.com.
Abstract Of Study
The purpose of this research was to determine whether or not there is a measurable relationship between the use of expert witnesses in civil litigation and the profitability of American law firms.
The subjects in the present study were 1,065 American law firms which responded to a confidential survey form sent by mail and e-mail to 5,000 randomly-selected firms. The 5,000 selected law firms were drawn from a pool of more than 90,000 firms. No effort was made to separate firms geographically, or by comparison to size. A sole-proprietorship (a single attorney) has the same weight statistically in the study as does a large firm of several hundred employees. All law firms in the pool of more than 90,000 had an equal chance of being selected. The identity of all individuals and/or firms has been completely shielded from the research process. Anonymity of the respondents is absolute.
Subjects responded to a Confidential Survey Form (see Appendix B). The Survey was purpose-designed for this particular research project and consisted of 12 questions concerning income figures, number of trial cases, number of experts retained and costs to do so. Several questions also inquired about opinions of the success of their firm's use of experts, and additionally about their potential future use of experts.
The time frame of the present research was for calendar years 1999 to 2001 inclusive, wherein the researcher had access to confidential financial performance records provided by respondents to the Survey instrument. The overall period covered by the study was for calendar years 1980 to 2001 inclusive.
The present research found that expert use by American law firms is on the rise, moving from an average of 1.2 experts per trial in 1999 to 1.8 experts per trial in 2001. This is a nearly 70% increase in a span of the three years measured. During the same time frame, it was discovered that the number of positive outcomes (wins in court) had increased for respondents from 52.1% in 1999, to 54.6% in 2001. This research has shown that there is a measurable link between the performance of the expert witness asset and the profitability of the law firms which handle trial cases involving vehicle accident litigation.
---
Russell,E. Darnell, Ph.D., Ed.D., MBA, BSE is an expert in Accident Reconstruction: Motorcycles, ATV's, Cars, Trucks, Buses, Heavy Equipment, Trailers, Boats, Ships, Yachts, Racetrack Design and Maintenance.
©Copyright - All Rights Reserved
DO NOT REPRODUCE WITHOUT WRITTEN PERMISSION BY AUTHOR.