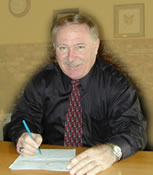 Larry A. Smith
is an expert in
Use of Force, Police Misconduct, Self Defense and Taser Use Issues
. He has 30 years of law enforcement experience and more than 15 years of experience training Law Enforcement Personnel in Use of Force Issues. As a detective, Mr. Smith spent thousands of hours working surveillance, writing reports, search warrants and preparing cases for the district attorney. A training Specialist at San Bernardino County Sheriff's Academy, he was responsible for training approximately 7,000 employees every quarter in
Verbal Skills, Baton, Handcuffing, Chemical Agents, and Firearms
.
Mr. Smith has served as an Expert Witness for cases involving Police Use of Force, Police Misconduct, Police Policy & Procedure, Self Defense Issues, Taser Use, and Self Defense cases. He teaches on Mental Stalls, Fear paralysis and testifies on these issues in court. He has testified in San Bernardino County, San Diego County, Los Angeles County, Long Beach, and South Dakota. With his extensive knowledge of government and judicial agencies, his clients receive favorable results in judicial proceedings.
Areas of Expertise
Criminal Defense
Child Custody
Corporate Investigations
Internal Fraud
Background Checks

Polygraph Testing
Cheating Spouses
Surveillance
Domestic Violence
Process Servicing
Accomplishments of Note
:
FBI Firearms Instructor Certificate
FBI Special Weapons and Tactics Certificate
Field Training Officer Certificate
LASO Special Weapons and Tactics Certificate
Chemical Agent Certificate
Verbal Judo Instructors Course
View Consulting Profile
.
I had the opportunity to be trained by Taser International as an Instructor. I have over 30 years of Law Enforcement Experience. I survived 3 critical Incidents during my career.
---