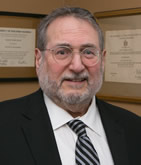 Charles H. Heller, PhD
, is a
Clinical and Forensic Psychologist
with over 35 years of experience in his field. Dr. Heller offers consultative expert evaluations to assess children and adults for intellectual, emotional, and mental abnormalities as defined by federal regulations. He is experienced in psychotherapy and psychological testing and provides psychological services to a broad spectrum of clients.
Dr. Heller is currently on staff at Rutgers University Biomedical Health service, specializing in criminal behavior and risk assessment. He also serves as a forensic psychologist consultant for the Rockland County (NY) court evaluation service, where he has performed hundreds of child custody, as well as criminal competency and child abuse/neglect evaluations.
Areas of Specialization
:
Bi-polar and other Depressive Disorders
Personality / Borderline Personality Disorders
Anxiety Disorders
Pain Disorders
Sexual Problems

Victims of Child Sexual Abuse
Alcohol and Drug Problems
Family / Marital Issues
Mental Health Issues
Organic and Brain Dysfunction
Agency Consultation
- Dr. Heller also offers consultation to agencies to improve team effort and communication and reduce conflict. He facilitates executive and leadership committee meetings, goal setting, and staff training and clinical supervision of other therapists.
Dr. Heller is a Forensic Consultant and custody evaluator for the Rockland County (NY) Department of Mental Health and a Child Custody evaluator for the Bergen Family Center, Court Services Program. He is a Consultant to agencies that include: outpatient and inpatient alcoholism and drug abuse treatment centers, schools, foster care agencies as well as a variety of group homes for emotionally handicapped, children with special needs, adolescents, developmentally delayed, and dual-diagnosed people.
Law Enforcement Personnel Consultation
- Dr. Heller offer his services regarding treatment for alcohol and emotional problems as well as fitness for duty evaluations. Member of the Rockland County De-briefing team for police officers, firefighters and emergency medical technicians who have been involved in traumatic situations and the treatment of posttraumatic stress disorder. Serve as a clinician for the member assistance program of the New York City Patrolman's Benevolent Association. Serve as an EAP clinician for agents and staff of the U.S. Drug Enforcement Agency (DEA).
Speaking Engagements
- Dr. Heller has delivered numerous professional speeches and seminars. His volunteer clinical supervisory and professional activities have been recognized by agencies he has helped.
Manhattan: (Mailing Address)
275 Madison Ave., 6th Floor
New York, NY 10016
Phone: 212-880-3789 - Alt. Phone: 845-354-0535
Fax: 845-354-1287
New Jersey: (Alternate Mailing Address)
140 East Ridgewood Avenue
South Tower, Suite 415
Paramus, NJ 07652
Phone: 201-262-0331
Fax: 845-354-1287
Orange County: (Not for Mail Service)
673 RT. 17M
Monroe, NY 10950
Phone: 845-354-0535
Fax: 845-354-1287
Westchester County: (Not for Mail Service)
520 White Plains Road, Suite 500
Tarrytown, NY 10591
Phone: 845-354-0535
Fax: 845-354-1287
View Dr. Heller's Expert Witness Profile
.