PRESS RELEASE DETAIL 82
A Press Release is one of the most cost-effective tools there is. Build credibility by publicizing your company events, performances, and other newsworthy items. Contact Us to feature your Press Release.
Return to Press Releases List
9/24/2014 12:00:00 AM
Experts.com Member and Private Investigator, Armando Zatarain, Launches New Debt Collection Service for Companies and Individuals Owed Large Sums of Money
---
PRWEB) September 24, 2014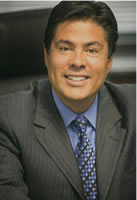 As principal of Collections on Contingency, Armando Zatarain built the company around his 30 years of private investigative and surveillance service, valuable contacts, and a powerful database of information. Having performed hundreds of successful background and asset searches, Zatarain casts a quiet net throughout the entire country to find checking accounts, savings accounts, brokerage accounts, safety deposit boxes, real property, vehicles, boats, aircraft and other valuable property that will lead to eventual payment.
"In most cases we can identify and find your money within the first thirty days of investigation. More difficult cases require extra time. In any event, you pay nothing until we have successfully found and collected your money," says Zatarain. Collections on Contingency clients pay a fair percentage on recovered funds. The final percentage amount is on a case by case basis, depending on the difficulty of securing the debt.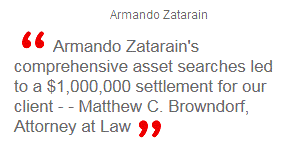 Zatarain's decades of experience in law enforcement include 13 years as a uniformed police officer and 12 years as a Special Agent with the California Department of Justice. He has performed work in an undercover capacity, clocking thousands of hours of fixed and moving surveillance for civil and criminal investigations in both the United States and Mexico.
Armando Zatarain is one of Experts.com's world-class expert witnesses and consultants. His engagements relate to private investigation for hidden assets and expert testimony on matters, including debt collection, blackmail and extortion, loss prevention, internal theft, missing persons, insurance fraud, witness location, and background checks, among others.
MORE ABOUT ARMANDO ZATARAIN
View Armando Zatarain's Expert Witness Profile and Consulting Profile.
Visit Armando Zatarain's website: www.CollectionsOnContingency.com
ABOUT EXPERTS.COM - KNOWLEDGE CONNECTED!TM
Since 1994, Experts.com has offered expert witnesses and consultants worldwide an effective platform to promote their services and expertise to legal professionals, the media and business clients worldwide. Experts.com does not broker the engagement between its clients and members and does not mark up its members' fees. Clients may search over 1380 expert witness areas of expertise or have Experts.com's knowledgeable staff complete the search for no added cost. 1-866-2-EXPERTS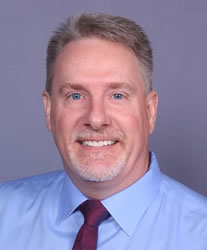 Michael S. Gossman, MS, DABR, FAAPM
Chief Medical Physicist & RSO
Rod Tasker
Payment Services / Transactional Banking Consultant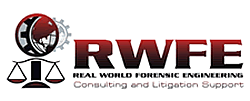 Dr. J. Rasty, PE, MBA
Founding President & CEO