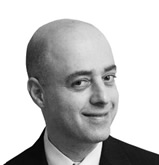 Michael Rabinovici
specializes in
Web and Social Media Marketing
. Mr. Rabinovici entered the Internet business in 1994, after practicing law as a commercial litigator. Today, his focus is on leveraging Web and social media marketing strategies to promote clients' business objectives and deliver defined ROIs.
Mr. Rabinovici is certified with Marketing Experiments, one of the Internet industry's leading research and testing companies. He has worked with a variety of companies in the areas of Web marketing and social media including IBM, Deloitte, Cisco, PennEnergy, and Fidelity.
Litigation Support
- Michael Rabinovici provides expert services on
Anti-Spam
related issues. Involved in the legislation process, he is conversant with many of the topics inherent in spam marketing. His expertise is available to attorneys representing both Plaintiff and Defense.
Consulting Services
: For the past 20 years, Michael Rabinovici has been focused on business-to-business communications, helping some of North America's leading companies develop copy for virtually every form of marketing collateral, across a huge range of industries. His consulting services include:
Content Marketing - Blog Posts, e-books, Webinars, White Papers, Info Sheets, Case Studies
Social Media Marketing - Engage in Network Conversation, Develop Corporate Branded Blogs, Launch Inbound Marketing Campaigns, Build Compelling Mobile Apps
Mr. Rabinovici has appeared on ROB TV and is a sought-after speaker on social media topics and blogs frequently on current developments in Web and social media marketing.